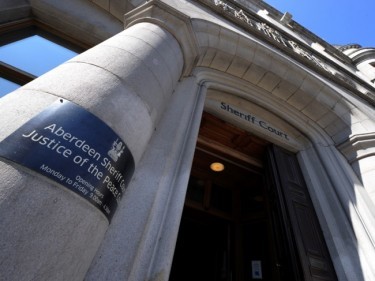 Three members of a north-east family appeared in court yesterday after a "ridiculous" dispute in a pub got out of hand.
Sisters Melodie, 23, and Amber Bruce, 26, were in the Butchers Arms in Inverurie on October 21 this year when an argument broke out at about 10pm.
Father David Bruce, 51, took one of them out and the other followed and they ended up on the pavement.
CCTV showed onlookers watching on in shock at the incident unfolded.
When David Duncan, the partner of the younger sister, attempted to restrain the 23-year-old she headbutted him.
The father left due to his frustration at the incident but then made his way back.
As police turned up and attempted to restrain the younger sister he obstructed them by attempting to stop them placing handcuffs on her.
After landing in court yesterday, the sisters admitted acting in a disorderly manner and the youngest pled guilty to an assault on her partner.
Their father meanwhile admitted hindering the police during the appearance at Aberdeen Sheriff Court.
Fiscal depute Felicity Merson said: "It seems wholly ridiculous, something that got out of hand."
Representing the older sister, defence lawyer Chris Maitland said his client had little memory of the incident adding that they had been "drinking shots throughout the evening."
He added: "The two sisters get on well and are getting on absolutely fine just now."
Lawyer Gail Goodfellow said Mr Duncan had made no complaint to the police about her client headbutting him.
Representing the father, Iain McGregor said his client should have continued walking home and that there was little force in his effort to obstruct the police.
Sheriff Robert McDonald fined the trio ordering the elder sister, of Westfield Road in Inverurie, to pay £200, the younger, of Esslemont Circle in Ellon, £200, and the father, of Kinsgfield Road in Kintore, £166.