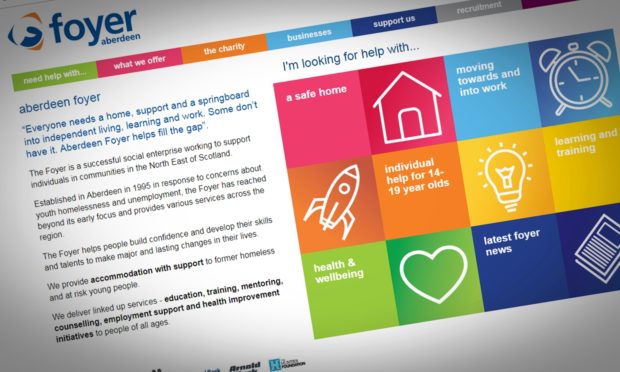 A former north-east charity worker, who was sacked from her role helping people back into work, claims she was unfairly victimised because of her mental health.
Rebecca Neil has taken Aberdeen Foyer to an employment tribunal, alleging she was unfairly dismissed and discriminated against because she had depression and anxiety.
Mrs Neil worked for the organisation, which primarily helps the homeless and vulnerable young people, between 2012 and 2018.
However, her contract was terminated when the charity found she was guilty of gross misconduct after a colleague claimed she had breached client confidentiality by discussing private information with other staff.
Yesterday the tribunal began with Mrs Neil giving evidence to tribunal judge James Young and a panel.
She said she had been running a 12-week course for people at various locations in Aberdeenshire, including Fraserburgh and Ellon, to help them get a job.
But she added that she was signed off sick from work due to depression and anxiety caused by stress in the summer of 2017, and was then given a phased return the following January.
Mrs Neil claimed that she was told she would be taking up a job at Ellon Academy, where North East College Scotland (Nescol) has a base.
This had been her preferred location, she told the panel, as she had a bad relationship with the caretakers of the charity's Fraserburgh base, who she claimed had "not been very nice" to her in the past.
However, not long after she made her full return to work, her boss told her an investigation had been launched following complaints from a Nescol colleague who was based in Ellon.
She told the panel this meant she was no longer able to work there and was forced to primarily base herself in Fraserburgh, which worsened her depression and anxiety.
A number of allegations were made against Mrs Neil, including bullying and intimidation and poor timekeeping, but ultimately just the confidentiality breach was upheld.
When asked by the judge whether she had breached confidentiality, she denied the accusation and said she had no idea what it had been based on.
However she did admit leaving a USB stick with course participants' CVs on it unattended overnight in the Ellon college.
Mrs Neil also told the panel that she had felt "dazed" and "discombobulated" at the disciplinary hearing which ultimately led to her being sacked because she had been taking strong medication to help with her nerves.
She said she had told a manager, who had been part of the hearing, but confirmed she had not asked for a break or a deferral.
The tribunal continues.