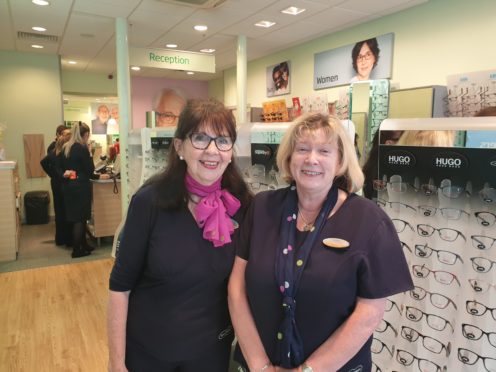 The two longest serving staff members at an Aberdeen optician aren't quite ready to see out their careers- and have vowed to continue working despite their combined age of 133.
Hearing centre manager Gilly McDonald has worked at the Specsavers shop for 29 years, with office manager and close friend Maggie Matthews not far behind on 28 years.
Ms Matthews enjoyed a 70th birthday party thrown by colleagues earlier this year, having started at the Union Street premises in 1991. She now works two days a week.
Ms McDonald, 63, works four days a week, and started at the store in 1990 when it was still part of the former BHS.
She said: 'I was originally a secretary in the oil industry and came across the job opening purely by chance. I thought it would be great to do it for a while – and I never left.
"It's been amazing to see the business grow – the contact lens department in particular has grown incredibly since I was first part of it."
Ms Matthews said: "When we first started, I was full-time and Gilly was part-time, doing just one day a week. Now it's reversed. But we remain great friends and love catching up when we can.
"Looking back, I thought I might have retired before now, but that's just not been the case – I still find the job really rewarding and I don't see an end in sight."
Store director Dave McGinty said: "Maggie and Gilly are vital to the team here – their knowledge and energy is incredible. They're also both very popular with all the staff, and we're very lucky to still have them."