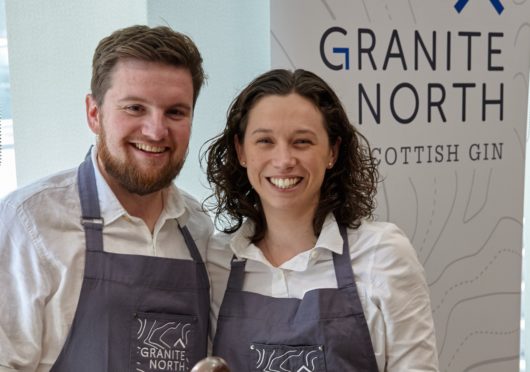 Local producers and their stories will play a key role this year and one duo in particular are looking forward to setting up temporary home in the new Turriff pavilion.
Sandy Matheson and Kirstie Nisbet are the owners of Granite North, which produces an award-winning local gin, and first-time exhibitors at the show.
Mr Matheson is a mechanical engineer by trade but came up with the idea of combining his love of craft spirits and the outdoors while walking in the Cairngorms.
Shortly thereafter, the couple purchased their first still and the licences to operate it, before spending two years fine-tuning a recipe in their flat in Aberdeen city centre.
Their aim was a smooth gin packed with the flavour of the outdoors and Kirstie, who was a doctor at ARI when the venture began, thinks they've achieved just that.
She said: "We've been trading as Granite North for 18 months now.
"It started off in our kitchen but it's grown and grown from there so we're now based on Mugiemoss Road.
"After a couple of years experimenting we found the right recipe which is distilled with fresh grapefruit and lemon, bay leaf and grand fir needles.
"It really does taste like a walk in the forest. I know that sounds silly but it makes sense once you try it.
"We've presented our gin at a number of shows before but this is our first time at Turriff.
"We know people who have been as visitors and they have always had a great time, so we thought we would give it a try.
"This year they're really pushing local food and drink so it's the perfect time to join what is looks to be an amazing show on our home turf."