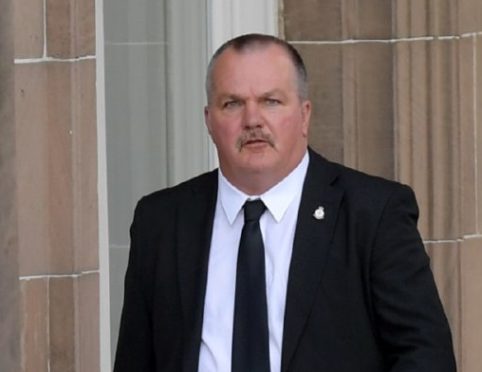 A tipper truck driver accused of killing his boss by reversing without looking properly has been cleared.
Christopher Penfold had been on trial accused of causing the death of foreman William Black by reversing without keeping a proper look-out.
The accident happened on the B9005 Fyvie to Methlick road, where the team were carrying out flood repairs following Storm Frank.
Banff Sheriff Court heard Mr Penfold had been turning when Mr Black walked between his own vehicle and the truck.
He died at the scene.
Yesterday, Mr Penfold, of Belfatton, Lonmay, was found not guilty of the death by careless driving charge.
He declined to comment afterwards, and left swiftly after thanking the sheriff.
Delivering his verdict, Sheriff Robert McDonald pointed to expert evidence led yesterday by forensic collision investigator Stephen Burgess regarding visibility while reversing a truck.
Mr Burgess, a former police officer, told the court that if Mr Penfold had been looking in his offside mirror or checking for oncoming traffic, he would have had "no realistic time" to see Mr Black crossing behind his vehicle.
He told the court: "If I was to choose to reverse up the road, I would have reversed in the same manner (as Mr Penfold)."
Earlier in the five-day trial – which was part-heard in June – fellow co-workers admitted they could become "immune" to the bleep of reversing vehicles.
One crew member also said he had received "very little" training and not been shown any procedural health and safety documents relating to the site.
The group were repairing damage to the roadside, near the Gight junction, when the accident happened on January 26, 2016.
The court heard that Mr Penfold continues to work as a lorry driver but has since had a reversing camera fitted to his vehicle.
Giving evidence on his own behalf, he said he knew "exactly" where the blind spots of the truck are and described his mirrors as his "eyes to the back".
He said: "When I'm reversing I continue glancing in my mirrors as it's ingrained in me.
"For me, there's an expectation of the experienced workers not to walk behind a moving vehicle with lights and buzzers going."
In his closing speech, fiscal depute Iain Gray said he believed there was enough evidence to convict Mr Penfold.
He said: "Rather than maintaining proper observations assumptions were made, there was no slowing down or stopping when he got close to the hazard of the men on the road.
"In the accused's view the men simply needed to get out of his way."
But defence advocate Gavin Anderson argued the case was "far from compelling".
He said: "The works that day were not being properly managed by Aberdeenshire Council as they should have been.
"This was simply a squad of men working at a site they had seen no paperwork for, under ad-hoc instruction from Mr Black.
"It is the sad irony of the case that it was Mr Black who gave the instructions and oversaw the works and it was Mr Black who ended up as he did."
After going off the bench to consider his verdict, Sheriff McDonald acquitted Mr Penfold.
He said: "As with the evidence today, you could have been keeping a look-out and still not seen someone move to the back of your vehicle.
"I think it's clear that I should not find you guilty simply because you were reversing and a fatal collision occurred as a consequence.
"You could be maintaining a look-out and checking another mirror while three men are moving.
"It doesn't absolve you of guilt but to an extent you have an expectation for the workmen not to be behind you.
"Considering all the circumstances I find you not guilty."