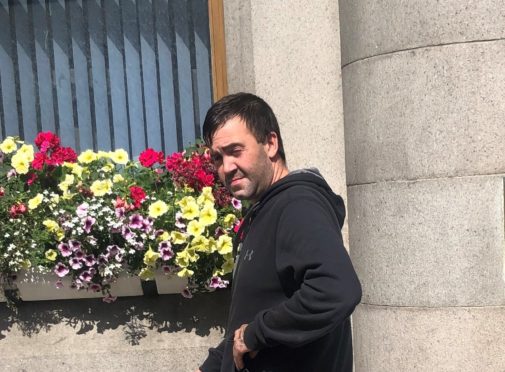 An Aberdeen man was found with a six-inch knife in his bag after he refused to leave a pub.
Michael Begg had gone into the Four Mile Inn at Bucksburn for work drinks, but was asked to leave when he started making staff and customers "uncomfortable".
Aberdeen Sheriff Court heard when he was asked to leave by the manager, he ignored her.
Police were called and detained Begg, who was carrying a black rucksack.
Inside, they found a six-inch yellow Stanley knife.
Yesterday, 31-year-old Begg, of Wallfield Place, admitted behaving in a disorderly manner and refusing to leave the pub on July 2.
He also admitted having an offensive weapon in a public place.
His solicitor Debbi Ginniver told the court Begg had gone to the pub to have drinks with colleagues after work.
She said: "He then tried to return home but he was refused access to the property by his partner.
"Begg then decided to return to the establishment.
"In respect to the knife, he told officers it was for work purposes and there was also a packed lunch inside the bag.
"He certainly was not going out with intention of using the knife."
Sheriff Graham Buchanan accepted that the father-of-one was not carrying the knife around for any "malicious reasons".
He was put on a year-long supervision order.