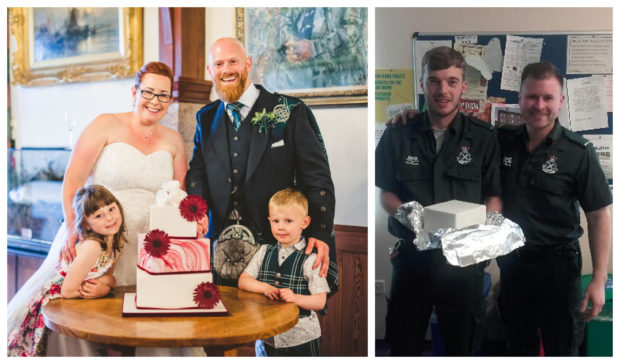 A bride-to-be who almost died after being struck down by sepsis a month before her big day has thanked the ambulance crew who saved her life by giving them a special slice of her wedding cake.
The top tier is traditionally kept to celebrate the birth of a child, or a first anniversary.
Instead Caroline Learmonth and her husband Phil, from Newmachar, gave it to the crew behind the life-saving intervention – Aberdeenshire-based staff, Spencer Staddon, Sarah Rose and Connor Melville.
The couple married in June, but a month earlier Mrs Learmonth was home with her two children, Olivia and Cameron, when she suddenly fell ill.
An ambulance was quickly called, as Mrs Learmonth started shaking and began to slip in and out of consciousness.
After an initial assessment – and with her temperature running at 41.8C – she was administered antibiotics and taken to Aberdeen Royal Infirmary, where it was determined she had suffered a sepsis attack.
After recovering in hospital for five days, she went on to happily tie the knot with her husband Phil on June 21.
Mrs Learmonth said she was extremely grateful for the help of the ambulance service.
"They were all just so nice and I cannot thank them enough," she said..
"My two kids wanted to know everything that was going on.
"Spencer was very patient with them. He explained the machines and what they were doing. It really made the difference.
"Some of it's a blur, some of it isn't. On the Wednesday, I thought I was going to die, everything was starting to slow down."
Gary Rutherford, patient safety manager for the Scottish Ambulance Service, said: "Sepsis is a life-threatening complication of infection.
"Symptoms can vary and get worse quickly, so it is important for people to know what signs and symptoms to look for.
"You should call 999 if you notice any slurred speech, confusion, shivering, very high or low temperature, severe breathlessness, discoloured skin or rashes, or low urine output.
"Children may also be sleepier than normal, difficult to wake, lethargic, have a seizure, or not feed normally.
"If you feel that the symptoms are mild or you are unsure, call NHS 24 on 111 for further advice.
"NHS 24 may arrange for an ambulance to be sent to you."