"I would rather one day with your father, than a lifetime spent with anyone else."
I regularly heard this beautiful sentiment from my mum while growing up, but didn't grasp its meaning until later in life.
To love is to be human, but finding another person to share our life with is a different experience for everyone.
It is increasingly common to meet a partner online, as opposed to locking eyes across the dance floor.
A spell of courting followed by marriage has been replaced by many couples choosing to live together without putting a ring on it.
A recent study shows that the traditional household of a married couple with children is giving way to cohabiting couples and people living on their own.
With Boris Johnson and his partner, Carrie Symonds, living together as the first unmarried couple in No 10 Downing Street, data from the Office for National Statistics shows that the number of cohabiting couple families is growing faster than married couple families, up 25.8% over the last decade.
So what does this mean for love in 2019?
We spoke to three couples living across the north and north-east, all of whom have vastly different relationships.
Caroline and Angus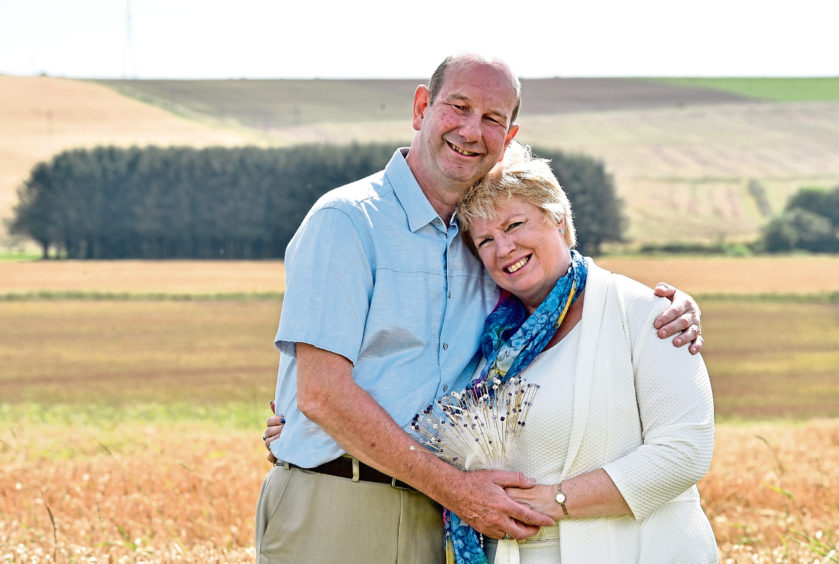 Caroline and Angus McNicoll can rarely be found at their beautiful steading near Fordoun in Laurencekirk, with dog Benji patrolling the gardens.
The pair have a shared passion for travel, and pictures of their adventures have been carefully framed around the house.
There was the trip to an ice hotel and a much awaited visit to the Grand Canyon.
They exchanged vows eight years ago, having believed they would never walk down the aisle again.
For Caroline and Angus are not shy about revealing that between them, they have been married seven times.
Caroline jokes about the difficulty in running out of colours for a wedding dress, and the desire for her final wedding to be a small affair.
"If people are laughing behind our backs, we know they can't be true friends of ours," she said.
"By all means, joke with us; I grew quite fond of all the rings, but the rest was a faff."
Humour aside, both Caroline and Angus struggled in their search for lasting love.
Angus lost his first wife to cancer and was faced with the prospect of bringing up his young daughter on his own.
He believes he married "too quickly" second time round, and although he went on to have another daughter, the relationship crumbled.
"The minister who married us later told me that he thought I was making a mistake," said Angus.
"But he obviously couldn't tell me that when I was stood at the altar.
"I was dipping my toe into online dating when I came across Caroline, and we started talking."
Although the couple quickly struck up a friendship via email, Caroline had no intentions of meeting Angus in real life.
"Online dating wasn't really a thing at the time, it was still very new," she said.
"It suited me perfectly because I was fresh out of an abusive marriage.
"It enabled me to chat to people without the prospect of getting hurt again.
"I remember seeing Angus's picture, it was a very flattering one.
"I messaged him and I said: 'Am I too young for you?'
"He had expressed a preference in his profile for a woman who was in her 50s, I was 45.
"It was refreshing because most men seemed to want someone young, slim and blonde.
"I was none of those things."
Angus and Caroline eventually met up, but it wasn't plain sailing.
"I thought he didn't look much like his profile picture, but I liked him," said Caroline.
"We started going on trips away together and Angus gradually moved in.
"I had no desire to get married again, whereas I knew Angus did.
"We were on the Isle of May and there was an eagle on the island called Eric.
"I said if we saw Eric, we'd get married.
"We searched every inch of that island and there was no sign of him.
"Just as we were getting on the boat to leave, we spotted Eric on some rocks.
"Angus started crying as he is the more emotional one, and that was that.
"We got married in the garden, as we'd both had a big white wedding before.
"This time round I wore a purple gown and we ordered our wedding cake from Marks & Spencer."
The couple have recently celebrated their wedding anniversary, and believe they would not have got together had they met earlier in life.
"I think we needed to go through our own struggles," said Angus.
"The thing I love the most about Caroline is her smile.
"We just clicked from the very beginning.
"These days I don't think couples talk enough, they sit there on their phones watching Netflix.
"We talk and laugh, we try and treat every day like it is an adventure.
"People make the mistake of falling in love with the idea of love, not the person.
"You should always trust your instincts."
Kelsi and Daniel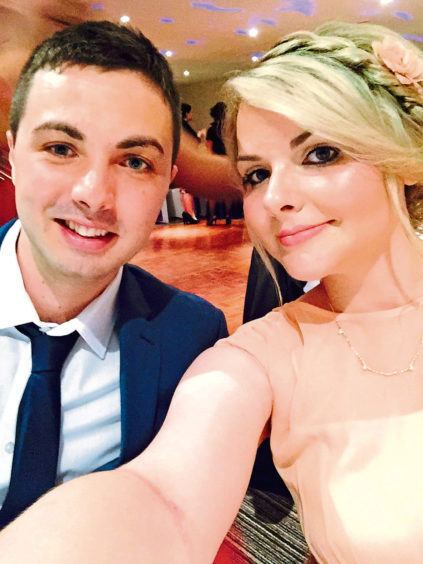 For Kelsi Watt and Daniel Kemp, there are not enough hours in the day to catch up with each other.
The couple, who are both in their late 20s, juggle demanding jobs with caring for their three-year-old son.
From organising childcare to housework, it can be difficult to spend time alone together.
They split their time between Aberdeen and Orkney, where they originally met.
Kelsi, who grew up on the island, believes it can be easier to find love in a close-knit community.
"There are a lot less people in a place like Orkney," she said.
"Everyone knows of someone who knows that person, so I think it's maybe a bit safer as well.
"It's almost as though you can get a reference on the man before actually dating them."
Kelsi first spotted Daniel on the school bus, before meeting him properly in a nightclub.
"I knew of him, but at the time he was way too cool for me, and I sat on the bus with the geek crowd," she said.
"He later went on to tell me that he had spotted me too, and he thought I was beautiful.
"Who knew?
"We officially met in a nightclub in Orkney; I would say Daniel did all the chasing.
"We've been together seven-and-a-half years now.
"The love I have for Daniel is different since we had our son.
"I think one of the hardest things is balancing being a parent and finding time for one another.
"Once you get a bit of balance, that really helps.
It did take a while, and this is a busy household.
"Daniel is a very good dad, and when I see the way he makes time to play dinosaurs with our son, that is a special feeling."
The couple are undecided as to whether they will get married, but have no plans to wed in the immediate future.
"I think many people are now prioritising their career before thinking about marriage," said Daniel, who is an accountant.
"There isn't the pressure to get married just because you have a child.
"Our relationship is stronger since we had our son, because I see what an amazing mum Kelsi is.
"I always found her funny, intelligent and beautiful.
"We don't get along all the time, that would be impossible.
"But we've made it this far."
Linda and Bill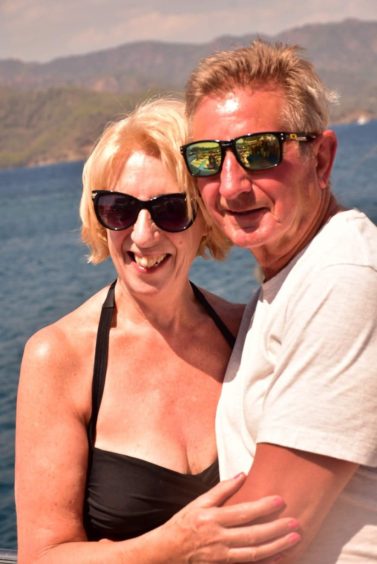 Tradition was everything when Linda and Bill Bennett set eyes on each other several decades ago.
The couple, who live in Golspie, are preparing to celebrate their 60th wedding anniversary.
They have three children and three grandchildren, and got married when Linda was just 20 years old.
"That was what you did back then, you got married and you had all your children by the time you were 25," she said.
"I was at a fairground with my mum when Bill sat down next to us.
"I remember he had this gorgeous tan.
"He asked if there was anywhere he could go to freshen up, and my mum directed him to our house.
"The rest is history.
"We courted for just over a year and then we got married.
"I wore a white mini dress and we had a small wedding."
The family moved to Flotta, a small island in Orkney which is known for its large oil terminal.
"Bill worked abroad so I was left home alone with the children," said Linda.
"I just got on with it. Flotta offered us a small but brilliant community.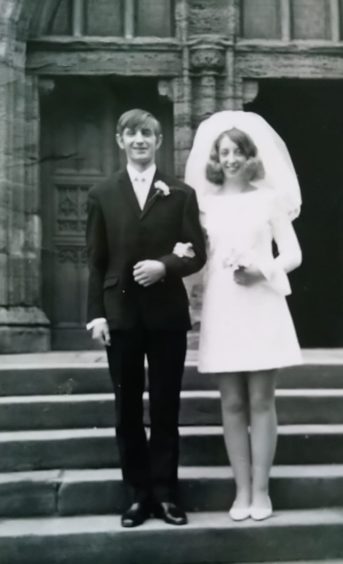 "Of course we have disagreed over the years and I sometimes think 'oh for goodness sake'. But you make it work; back in the day it would be an embarrassment to get a divorce.
"I think it's too easy to walk away now, people don't seem to have much staying power.
"In a place like Golspie, young people seem to settle down and get married though."
But what has made Bill and Linda stick together through thick and thin?
"We are opposites and that's partly why we work," said Bill.
"Linda likes dancing and I don't, we watch different TV programmes.
"We are complete opposites in lots of different ways.
"We don't always agree and it wouldn't be a marriage if we did.
"Love has kept us together because I couldn't picture my life with anyone else.
"We made our marriage vows and we live by them.
"I still love Linda as much, if not more, than when we first got together.
"That's the secret, good old-fashioned love."