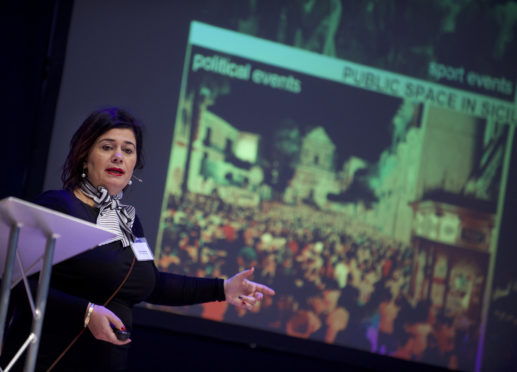 Replacing traffic lights and bollards with ice-cream stalls and crowds of pensioners could be the key to helping north-east towns "re-inhabit" their ailing high streets, a leading international architect has said.
Hundreds of business, community and planning leaders met in Aberdeen yesterday to hear how they can bring "life, vitality and vibrancy" back to their areas at the annual Scotland's Towns Conference.
Delegates were told about successful pilot programmes in the south of Ireland, which used Sicilian cafe culture for inspiration.
Senior architect at Cork County Council, Giulia Vallone, blamed a growing reliance on cars for the downfall of town centres and encouraged groups to "reclaim the streets from the road" and put pedestrians first.
@Giulia_Vallone explaining how in Sicily they use ice cream stands and octogenarians to calm the traffic. @ScotlandsTowns #STC19 pic.twitter.com/Q9cCKV1X71

— Deborah Murray (@deborahnmurray) November 20, 2019
She said changing street layouts to give citizens priority – essentially part-pedestrianising areas by removing traffic lights and bollards – would enable people to use public spaces in new ways.
Ms Vallone added that the increased footfall would help bring empty shop units back into use.
"In Sicily, we use ice-cream stands and octogenarians to calm the traffic," she joked.
"We have a lot of clubs for retired people in Italy in the town centres as they have got more time to spend there.
"And it means there's traffic calming as, when you drive through, you're going to be very slow and safe.
"People cross the street without looking as they know they have priority."
In Clonakilty,
we reclaimed streets from roads! @RIAIOnline @theAoU @JTUrbanDesign @HousingPress @angelabradyRIBA @frankmcdonald60 @KMurray315 @Gilleeece pic.twitter.com/eiCuH12bcO

— Giulia Vallone (@Giulia_Vallone) June 15, 2019
Ms Vallone detailed her award-winning work in the 5,000-population town of Clonakilty, which followed her Sicilian-inspired vision.
Pavements on its main thoroughfare were widened, road markings were "completely erased" to make drivers more vigilant and the street was lined with chairs and coffee tables to act as informal meeting points.
She also described "kissing benches" installed elsewhere – seats facing each other, rather than side-by-side, to encourage people to communicate more.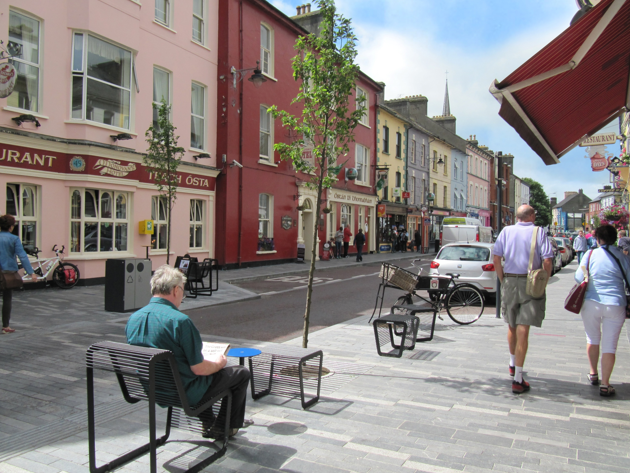 Aberdeenshire Council deputy leader Peter Argyle said: "When somebody comes along and speaks with such energy and commitment to bringing an Italian feel to town centre layout and design, the message is really powerful.
"Undoubtedly I think every town has issues with traffic, parking and the dominance of the motor car.
"If we can get to a place where people are more important than traffic, and get them living in town centres again, then inevitably they will become more vibrant and successful.
"It's abundantly clear that we have to change how this works.
"The idea we can go back to the retail model of town centres from the 1950s and 1960s is not going to happen."
Former First Minister Henry McLeish used his keynote speech at the conference to urge council leaders to work together more often.
The politician told delegates he feels there is "too much centralisation" in Scotland and called for local authorities to be given more autonomy to solve the issues arising in their wards.
He said: "We need resources and more confidence from central government.
"Councils should be trusted more and given more flexibility so they can work with others to take our towns and refashion them for the common good."
Mr McLeish also warned that the continued growth of online shopping poses one of the largest risks to high streets.
He specifically called out web giant Amazon in his speech, claiming it is damaging the opportunities available to smaller retailers.
"This is a huge corporation unfairly not paying taxes as it should, and putting extra burdens on shops in our town centres which are striving to make a profit to exist," he said.
Amazon has maintained it pays all of the tax it is required to.