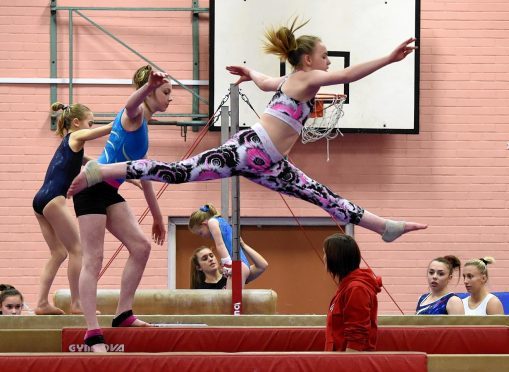 It is the dawn of a new era for Garioch Gymnastics Club after it relocated to a new permanent residence in Kintore.
The club, which was formed in 1985, has been based at Garioch Community Centre in Inverurie since its inception but, after a few false starts, the club has finally realised its goal of having a home of its own.
The club has a history of producing talented gymnasts – at club, regional, national and most recently international level – and proud head coach Trish Swan believes the new base can help the club continue to raise the bar.
She said: "We would never have believed that from a set up and put away club we could produce a Commonwealth gymnast.
"However, with a highly qualified and experienced coaching team, a talented and hard-working individual and supportive parents, this was the reality for Izzy Tolometti.
"She and others, who have competed for us over the years, as well as the added coverage of the sport, have inspired many to start gymnastics.
"The growing interest has meant we have long felt we had outgrown the community centre hall in which we trained and the long and arduous task of finding a suitable alternative began.
"There have been a few disappointments over the years with regards to new premises, but finally a suitable facility in Kintore became available and we decided to move out of Inverurie so we could acquire accommodation that would allow our club to grow further.
"Our new dedicated gymnastics facility opened its doors on February 22 in Morrison Way, Kintore, and has already attracted interest, particularly in our pre-school and recreational classes."
Interest in the new facility has been strong already and Swan is optimistic about the future of the club and gymnastics in the area. She said: "The fact that we can open every day will mean we can increase participation in this wonderful sport we are all involved with, providing a well-defined pathway for those particularly interested in doing more with their gymnastics, but also allowing those who want to be active and develop basic but highly transferable skills the opportunity to do so.
"Our expanding programme will, in addition, provide an opportunity to offer general health and wellbeing activities aimed at other sections of our community such as young adults through to senior citizens.
"Our new centre is already furnished with equipment of the highest standard and is one of the best in the north-east.
"Additional fundraising will allow us to add foam pits shortly so that we will be fully self-sufficient.
"Our satellite classes based in Insch, Kemnay, Ellon and Alford continue and Inverurie will now become a satellite class in the new academy when open. This helps to keep the numbers linked to the club around 700 a week, which is incredible."
Gary Tolometti, chairman of the club trustees, said: "This club of ours is blessed with profound support from our gymnasts, coaches, volunteers and our parents, and this beautiful facility has come to pass thanks to the generosity and selflessness of our supporters."
Club manager Janine Robertson added: "After years of dreaming and planning, Team Garioch finally have the full-time home we deserve. It will give us more opportunity to do what we do best."
Anyone interested in classes at the new centre should contact gariochgc@gmail.com or call 07852 615858.