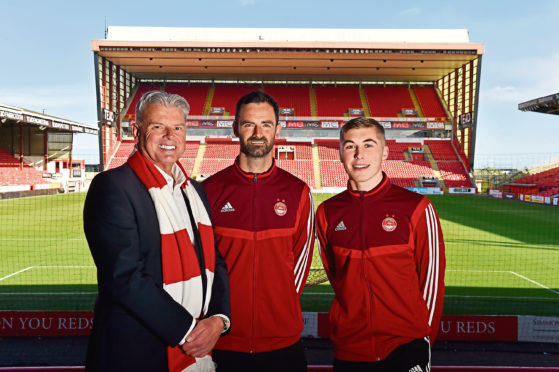 Aberdeen FC has pledged to contact as many as 12,000 fans in the next two months to make sure they stay safe and well amid the Covid-19 outbreak.
More than 500 Dons supporters have already been bolstered by a phone call from the SPFL organisation in the last week, whether from a club representative or a former or current player.
And feedback suggests the scheme has been the highlight of the day for elderly fans during the coronavirus-imposed lockdown.
The board is working closely with the AFC Community Trust to reach as many of the Red Army as possible, both in delivering supplies to vulnerable people and checking on those who might struggle with mental health issues.
The directors have also pledged to donate 10% of the total revenues generated by the sale of season tickets throughout April, to the trust.
Liz Bowie, the trust's chief executive, said: "We're absolutely blown away by the
generosity of the directors. If AFC fans continue to purchase season tickets throughout April at the rate they have been recently, the trust will benefit enormously.
"As a result, will be in a position to provide even more support to the wider community. It's a win-win situation for both the club and the community."
Starting today, representatives from the club and the trust will increase the number of calls to reach a target of speaking to 12,000 fans throughout April and May.
The initiative will seek to find out how people are coping during the lockdown, find out if the club or the trust can help them or if they know of anyone in a vulnerable position who needs specific assistance.
Ms Bowie added: "We've already seen the hugely positive impact a call from the club can have on our fans. We began by prioritising those over 70, but, having seen how much it means to people, we'd like to reach even more of our fan base and, by pooling our resources, we believe we can contact around 400 fans every day.
"It's been estimated that one in four people will suffer from mental health issues as a result of being in lockdown. Being cooped up at home alone can exacerbate problems such as depression and anxiety. Knowing the club cares and is there to talk could really make a difference and we are committed to reaching as many people as we can."
Many of the staff have experience in dealing with individuals of all ages who are struggling with poverty, mental health and physical disabilities.
Dons fans have rallied behind the club's #StillStandingFree campaign, pledging over £8,000 in donations to the trust, which has already delivered packages of food and essentials to 200 vulnerable children and families in the city and Aberdeenshire.
Elderly supporters have received calls from assistant manager, Tony Docherty, captain, Joe Lewis, Andrew Considine and Shay Logan and Gothenburg great, Neil Simpson.
Club chairman Dave Cormack, has made several calls himself and described the response as "humbling".
He said: "I've spoken to several fans who are self‐isolating, reminiscing about their Pittodrie memories and sharing our favourite football moments. This underlines the power of football in bringing people together.
"We are living through an unprecedented global crisis where everyone is concerned about the health and well‐being of their families and worried about their jobs.
"Yet Dons fans are supporting the trust and our campaign. It's truly humbling."