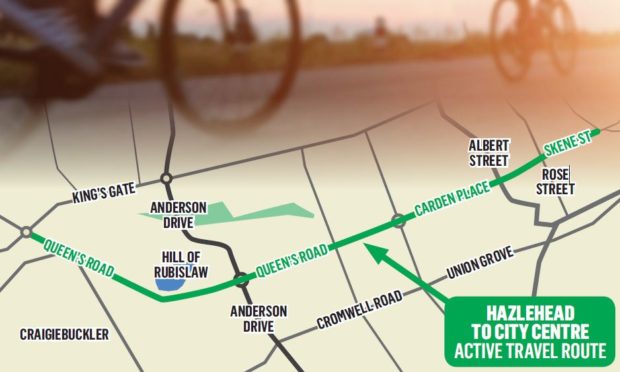 Cyclists could soon be travelling in dedicated lanes all the way from Aberdeen city centre to Westhill.
The council has launched a week-long consultation on proposals for two-miles of temporary bike lanes between the Hazlehead roundabout in Queens Road and Rosemount Viaduct.
It would essentially link the city centre with cycle lanes all the way out to Kingswells and Westhill, as they would join existing infrastructure at Hazlehead.
The bike lanes, funded by the £1.76 million Spaces For People project, would be on either side of the road, along Queen's Road, Carden Place and Skene Street.
As well as aiding physical distancing, the money can be used to boost measures for safe walking and cycling routes.
Right turns would be banned from Queen's Road into Hazeldene Road and from Springfield Road into Woodburn Avenue.
But last night councillors voiced concern over the loss of parking in already troublesome areas of the West End, and well as outside two city schools.
Hazlehead, Queen's Cross and Countesswells councillors Martin Greig and John Cooke said parking was already an issue in side streets, such as Angusfield Avenue, which planners suggested could be used by those displaced by the changes on the main road.
Further along, in Carden Place, an increased number of worshippers attending St Mary's Episcopal Church – due to the temporary closure of St Andrew's Cathedral – could cause issues too.
Rosemount And Midstocket councillor Bill Cormie added that as many as 28 spaces could be lost in Skene Street, outside of Gilcomstoun School.
Families from across the whole north-east attend the school's Gaelic unit there, meaning increased reliance on parking as pupils are dropped off from all over the city and Aberdeenshire.
He said parking spaces in side streets like Esslemont Avenue and Northfield Place were already "like finding hen's teeth".
City Council transport spokeswoman Sandra Macdonald said: "We've already made changes in other projects thanks to suggestions from local people, so we'd really like to hear their views on this scheme."
Council planners said public feedback would be taken into consideration, and views can be offered here.