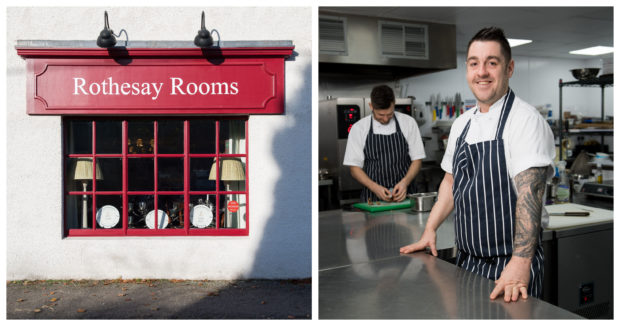 A restaurant established by Prince Charles to help boost tourism and create employment in Ballater following the impact of Storm Frank will reopen its doors this week for the first time since March.
The Rothesay Rooms in the Deeside village closed five months ago due to the pandemic, but is now getting ready to welcome diners back with a new menu.
The Duke of Rothesay's charity the Prince's Foundation backed the opening of the venue after flooding from Storm Frank caused widespread devastation in the community in 2015, a disaster that was followed by a major fire at the Old Royal Station just months later.
It was designed to drive more visitors to Ballater, and provide local job opportunities.
The restaurant will officially reopen on Friday evening.
The Rothesay Rooms executive chef Ross Cochrane said: "Our excellent kitchen team look forward to donning their whites once again and serving the best locally-sourced fare.
"We've built a reputation on using the finest ingredients that Aberdeenshire and the north-east has to offer, and we're keenly anticipating the opportunity to bring a brilliant dining experience to customers old and new.
"Our new menu will feature some of our most popular dishes from the past year, and a few new additions.
"Having five months away from work and the team has been such a difficult time for all of us.
"Now, we are all extremely excited to get back to work."
Booking will be essential, and staff at the restaurant will conduct track and trace monitoring to comply with measures to prevent the spread of Covid-19.
Opening hours will also be reduced.
Carolina Cochrane of The Prince's Foundation said: "Because of reduced opening times, it will be easier for people to book and inquire online and by email.
"We really appreciate our guests being patient and supportive as we get back into the swing of thing and become used to a new way of working.
"Most of all, we can't wait to welcome everyone back to the restaurant."
The royal has a long history of supporting the Deeside community of Ballater and the surrounding area.
In January 2017, the Duke and Duchess of Rothesay were guests of honour at the premiere of Immortal Memory, an album of choral performances of Robert Burns works designed to raise cash for the Ballater Flood Appeal.
Sales of the album, which was created by composer Paul Mealor and the Aberdeen University Chamber Choir, generated more than £6,000 for victims of Storm Frank.
And last year Charles made a significant donation towards the restoration of the Cambus O' May cast-iron suspension bridge over the River Dee, which was severely damaged by floodwaters in the 2015 storm.
Work is now well underway to reopen the bridge, which lies between Ballater and Aboyne, to the public.