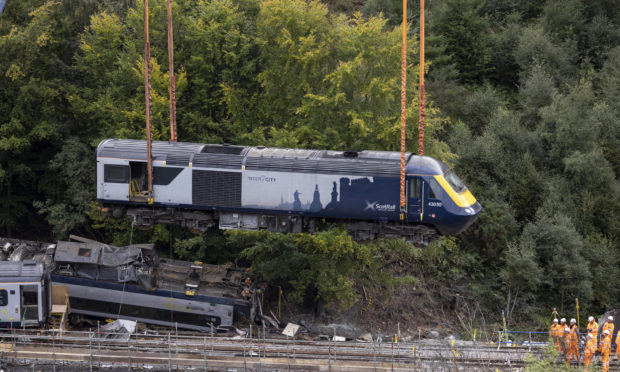 A leading transport worker's union has claimed the Stonehaven derailment highlights the important climate change challenges faced by the rail industry in the UK.
Manuel Cortes, the general secretary of the Transport Salaried Staffs' Association (TSSA), said the initial report released this week by Network Rail shows how crucial it will be for the industry to improve its response to extreme weather incidents, like the one that preceded the tragedy on August 12.
In the morning hours leading up to the fatal derailment, the region was hit by thunderstorms and heavy rain, with many streets in Aberdeen and Stonehaven badly flooded.
Between 5am and 9am on the day of the disaster, weather records show that around 50mm (1.9 inches) of rain fall in the Carmont area.
An initial report by the Rail Accident Investigation Branch found during that period of rainfall was almost 75% of August's total monthly count of 70mm (2.7 inches) for the whole of Aberdeenshire.
Mr Cortes said: "Our thoughts continue to be with the loved ones of those who died in this tragic incident.
"It appears that atrocious weather caused the train to derail.
"It's crystal clear that climate change is leading to more extreme weather events which brings huge challenges to transport infrastructure.
"Our industry has already recognised this, and the need to increase the resilience of our railways in the face of it.
"The transport secretary, Grant Shapps, must now give cast-iron guarantees that the investment needed to secure our railways will be made available."