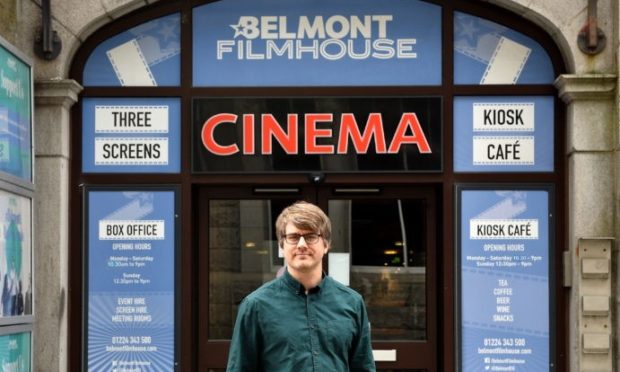 Despite having tight restrictions on customer numbers, an independent Aberdeen cinema recorded its best day in months over the weekend.
Exactly 100 people passed through the doors of the Belmont Filmhouse on Belmont Street as they took refuge from the rain throughout the course of Saturday.
Having closed in March at the start of the country's coronavirus lockdown, it reopened just three weeks ago.
Head of cinema operations, Colin Farquhar, said everyone was "buzzing" to be back in front of a big screen once more.
"We did exactly 100 admits which is still, in a sense, wee numbers," he said.
"It's not what a busy Saturday would have been a year ago, but in terms of the new normal it was good.
"It was a blast to be at work and I was delighted to see folk back in."
The most packed screen on Saturday had just 24 patrons, all spaced out in line with physical distancing rules.
Seating has been divided into "pods" so that different households can sit together, while protective screens and automatic hand sanitiser dispensers have been installed throughout the cinema.
Today is now officially the busiest day we will have done yet, even without whatever additional bookings we get from walk ups. Yay😃

— colin (@colinwilliamfar) October 3, 2020
Mr Farquhar said: "Ultimately, people will come back when they feel it's safe to do so.
"The town overall was busy and it feels like folk are keen to get out and about and stay safe.
"It's nice, it feels like things are returning to a version of normal."
Alongside Christopher Nolan blockbuster Tenet, the Belmont Filmhouse has also been screening two limited-release pictures before they head to streaming services.
The Trial Of The Chicago 7 and On The Rocks will launch on Netflix and Apple TV+ respectively later this month.
Mr Farquhar added: "We've built up a good relationship with Netflix so we can show limited releases before they go to video on-demand (VOD).
"Even folk who have Netflix want to see them on the big screen, so I don't think VOD is that much of a scary prospect for us."
It was also a busy weekend for the new Arc Cinema in Peterhead, which was officially opened on Friday evening.
The town's own award-winning director Jon S Baird opened the 422-seat five-screen facility, which is showing a number of blockbusters and family favourites.
It also has plans to show live opera, ballet and theatre productions.