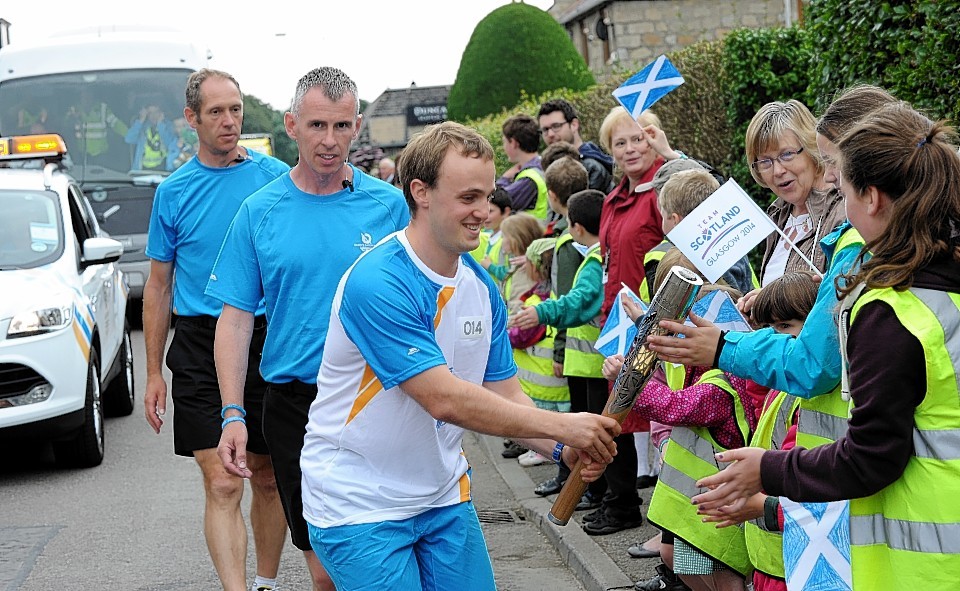 Hundreds lined the streets in Huntly yesterday to watch the Queen's Baton Relay make its second trip to Aberdeenshire.
There are less than three weeks to go until the opening ceremony of the Commonwealth Games in Glasgow and people from all over the north-east travelled to see the symbol are it was carried through the town.
The tour is covering more than 400 Scottish communities in advance of the Games, which start on July 23.
Huntly was not included in the tour of Aberdeenshire on Sunday, but locals had the chance to catch the procession before it travels through Moray today.
Baton bearer Angie Shearer has helped raise more than £500,000 for Cancer Research UK while overseeing the Peterhead Relay for Life and organising the 10K Twilight Walk in Inverurie.
The 29-year-old was made a CBE in recognition of her work for the charity in the Queen's New Year honours and received her award at Holyrood Palace in Edinburgh on Tuesday.
She said: "It has been a surreal couple of days, just amazing.
"The Queen asked me about the north-east and asked how much I had raised. She took the time to speak to everyone and there were about 70 people receiving awards.
"I lost my granny to cancer in 2000 and last August my auntie died from cancer so that has always been my drive to fund raise.
"I really enjoy the different events we have organised but it is really special to think you have been nominated because someone values the stuff that you are doing."
Pipe music entertained the gathered crowds in Huntly yesterday as the procession wound its way round the town through Bogie Street, Gladstone Road, Bleachfield Street, King Street and Deveron Road.
Kate and John Hunter travelled from Rhynie to see the baton relay.
Mrs Hunter, 68, said: "We had a good view and thought it was important to see it when it came through Huntly.
"It was good to see such a lot of people turning out to see it."
And Vanessa Dunbar, of Kennethmont, took son Matthew, 3, along to watch the relay before heading to Glasgow in a few weeks to watch the mountain biking events.
She said: "We really wanted to support it and it has helped us get excited for going to the Games."