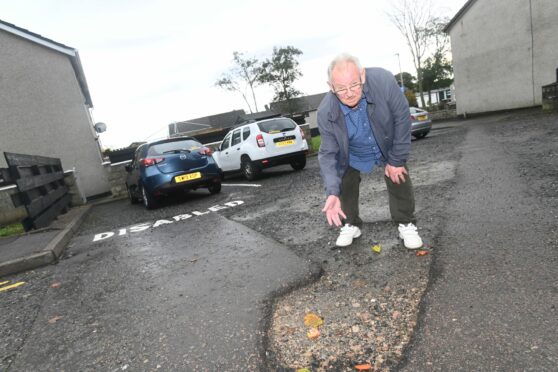 A 78-year-old blue badge holder has called on Aberdeen Council to fix the potholes that have plagued the car park beside his house for "close to ten years".
Albert Bruce has lived in his house on Greenbrae Drive in Bridge of Don for 45 years, but he says the potholes have only become a serious problem in the past decade.
He has to drive through the six-inch deep hole to get to his disabled parking spot, and recently sustained minor injuries after tripping over it.
While he says has made several reports to the council, which owns and operates the car park, no permanent repairs have been made.
However, the local authority has now said they plan to fill in the potholes before the end of the year following Mr Bruce's latest report.
Concern for school visitors
Mr Bruce said: "It's quite noticeable. As you come out of the entrance and before you leave the entrance of the car park, you can't miss them.
"You've got to drive over them."
The car park is also a "main thoroughfare" for parents and children going to and from Greenbrae Primary School, Mr Bruce said, and he is concerned someone could hurt themselves.
He added: "The thing that gets to me is, I've been complaining about this car park and watched it over the years deteriorating, and deteriorating, and deteriorating.
"If some kid or somebody falls in the hole and it's full of water – that's the only point I'm making.
"Prevention's better than cure."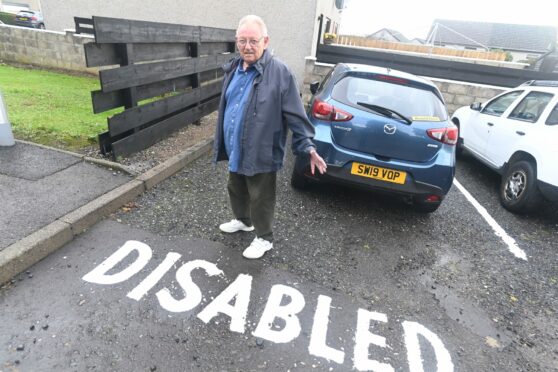 An Aberdeen Council spokeswoman said: "The council's building services team received a report of potholes within this residential car park on the 15th of September 2021.
"This was inspected on the 22nd of September 2021, and they are currently liaising with the roads team to determine the level of repairs required, after which the necessary works will be arranged.
"Weather permitting, these works should be completed before the end of December."