In a quiet, picturesque corner of Aberdeenshire countryside, a fierce battle is under way over a development which could change the landscape forever…
Plans to create a quarry "the size of 12 football pitches" have sparked a passionate battle between a local community and heavy industry.
At stake is the aptly named Beauty Hill just outside Newmachar.
The site at Rainnieshill is set to be dug up to provide up to 60,000 tones of "high-quality" hard rock as part of JKR Contractors Ltd's efforts to become self-sufficient.
An official planning application has been lodged with Aberdeenshire Council to seek approval for the project, which if given the go-ahead will last 13 years.
With a total of 421 public comments submitted, the application is believed to be "the most controversial" one in the north-east since the approval of Donald Trump's golf course on the Menie estate, north of Aberdeen, in 2012.
The plans have been a hot topic of discussion since 2019, when the contractors first announced their intentions to turn the beauty spot into a 24-acre quarry.
While for some the land is just grassland and scattered scrub, for local residents it's not a "far flung field that is rarely visited" – it is an "integral part" of their daily lives.
Hundreds from the area, including three community councils, have dedicated the last two years to fighting the "unnecessary and harmful" scheme in fear it could ruin their quality of life.
The application has received 250 objections with campaigners raising concerns over the proximity to residential properties – with the closest one being 140 metres away, noise and dust pollution, road safety issues with influx of lorries and environmental impact on wildlife.
In addition, a petition outlining their worries has also amassed 743 signatures.
Zoom on the map below to view all submitted public comments:
A further 171 comments have also been lodged in support of the project stating the project would be beneficial for the local economy and give employment a boost.
But as the planning application is still to be presented before the council for a verdict, locals have prior raised one "vital, yet simple" question – "who would want to live next to a quarry?"
---
The battle for their futures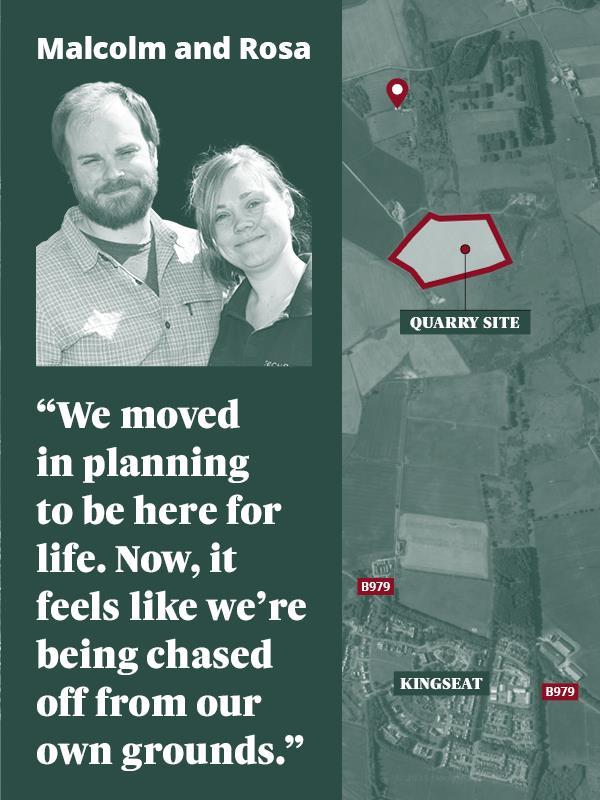 It was love at first sight for Malcolm Paterson and Rosa Gilmore.
When they first set eyes on Beauty Hill, they instantly knew they wanted to spend the rest of their lives in the peaceful countryside spot.
With 25 acres of woodland, hedgerows and ponds providing a "haven for a broad range of wildlife", the plot of land at Braeside of Balnakettle was the perfect match for the couple, who has always been in awe of nature.
Malcolm and Rosa "fell in love" with the tranquillity and beauty of the area and bought the property situated just 140 metres from the hill in October last year.
With a genuine smile on her face, Rosa described their new home, where they now permanently reside along with her father Archie, as a "serene spot to escape the stress and noise of everyday life".
After spending her whole life in Edinburgh, the 35-year-old couldn't resist the temptation to flee the capital and settle down in a "quiet and unpolluted" beauty spot with her partner.
Like most people who decide to retire from the hustle and bustle of the city, Rosa and Malcolm picked the "perfect" place for them to enjoy the outdoors and look after their whole team of animals – including their adopted hen and cock Hennifer and Mr P.
And even though Malcolm had spent the last few years in Pitmedden, he said the atmosphere at the aptly named Beauty Hill has something special, calming and enchanting.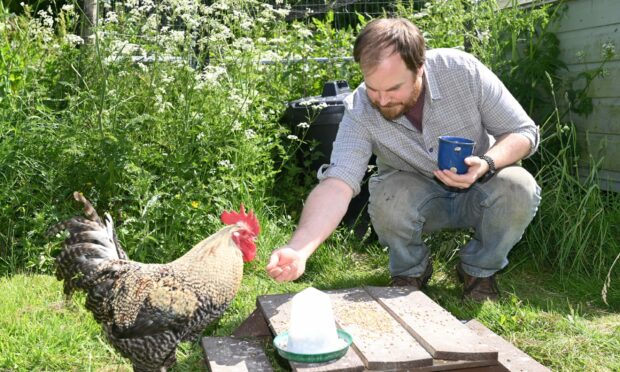 But the one thing they didn't expect was that their "paradise" could soon be "ruined" by the resounding noise of drilling and blasting at a fully operational rock aggregating quarry.
The couple was informed of plans to dig a gigantic hole on the slope of Beauty Hill shortly after they took over the property in December.
Suddenly, the natural "utopia" of peace and quiet – seldom interrupted by sounds of woodpeckers chasing each other in the trees – was replaced with the potential image of rock excavating machines and HGV lorries.
"All of that would be ruined with the quarry," Malcolm said. "It wouldn't be tranquil anymore.
"And I know that they say that it will be only 45dB at the nearest properties, but at the minute, that's the noise level – absolute silence with a few bird sounds coming in every now and again."
Potential issues with dust and noise have been highlighted as main concerns in almost all of the objections submitted against the proposed quarry.
If approved, the site is expected to operate six days a week – from 7am to 7pm Monday – Friday and from 7am until noon on Saturday.​
According to the planning application lodged with Aberdeenshire Council, "normal quarry operations and the intermittent use of the drill rig, without exception, do not exceed 45dB", which will allow the development to be carried out "without significant impact".
Air pollution with dust will also be mitigated and water suppressed with modern machinery, although it is stated that "the risks of any negative impacts are extremely low even without mitigation".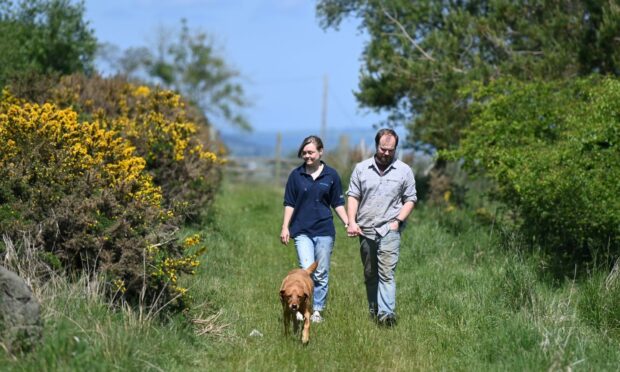 For Malcolm, however, living within close proximity to a quarry is not an unfamiliar experience and he has seen first-hand the impact it could have on families.
The 38-year-old originally from Potterton has spent most of his life residing next to Joss' Loch-Hills Quarry for sand and gravel at Parkhill between Dyce and Bridge of Don.
"It was just horrendous and an absolute ordeal," he said. "Everything was covered in dust.
"Cars were covered in dust, windows were covered in dust and it was all the time. And I imagine that's roughly, what will happen here.
"It's like you're being chased off from your own grounds outside to go inside where you don't want to be.
"Because at the minute here, it's quite nice – it's fine to walk, the sheep are happy and the grass and trees are happy. But then you throw six-days-a-week stream of dust on everything, and it's not so nice."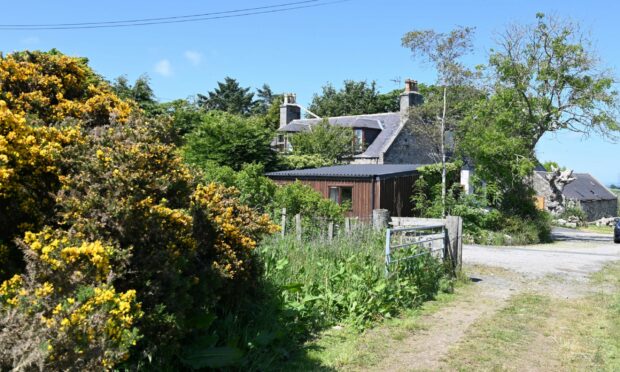 As an engineer for engineering services company Babcock, Malcolm often has to work overnight and take his well-deserved respite during the day.
Rosa who currently owns a café in Aberdeen is also usually bound to spend late nights at work – making the possibility of constant drilling noise from 7am six days a week a "massive" concern for their wellbeing.
But what hits straight to their hearts is the chance that they might no longer be able to enjoy the beautiful countryside right on their doorstep.
Rosa said: "All three of us spend a lot of our time outside and we do it because it's such a nice place to be.
"People live here because they enjoy the outdoors and they want to be outside. They want to be somewhere that's beautiful, quiet and peaceful, and there's got good air quality – that's why you live in the countryside.
"I have a massive family and we are very close, so we've always done a lot of things together.
"My mum was always the one who would organise big family gatherings all the time before she passed away in 2018, and that's what we want to do here.
"But if you've got a quarry running, you can't do that. You can't have nice big summer family parties and family gatherings – not when you're going to subject them to just noise, dust and drilling.
"It's just going to completely change the whole feel of the area, the whole personality of the area."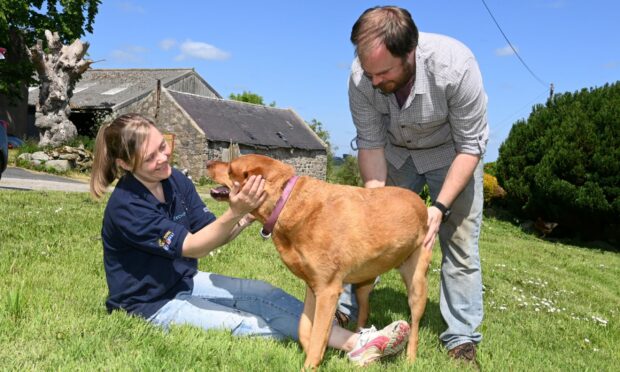 Enjoying most of their days off venturing through their land for exercise and fresh air, Malcolm and Rosa had vowed to protect and increase the wildlife in the area.
Both animal-lovers, they have always been welcoming hosts to a wide range of creatures in Braeside of Balnakettle – including badgers, foxes, deer and even red squirrels, which often pop up for a brief snack at the specially designed for them feeder.
Explaining the variety of wildlife in the area and the importance of preserving it, Rosa shared her worry that the quarry will drive it all away for decades to come.
With machines expected to drill deep into the ground to excavate "good quality hard rock", Malcolm and Rosa have raised concerns about the possibility of contaminating the stream near their property, as well as their private water supply.
And although the developers have reassured residents that they have conducted a hydrological survey and such contamination has been ruled out, Malcolm fears there is still a risk.
"I can't imagine how difficult it will be for us if they do contaminate our water supply," Malcolm said.
"I've got huge experience with this with my parents from when the bypass went in and their well was contaminated, and the difficulty of getting it fixed.
"You lose the filtration of the grass top soil, the rock, it goes into the watercourse and then suddenly it's in our water. And once they've taken our water supply, what are we supposed to do?
"Their suggestion was to just connect to the public water supply, but first of all it's not that good and then, there will be a lot of remedial work to get the water to our property.
"Now, I shouldn't have to stomach that cost so they can have a quarry and make a lot of money."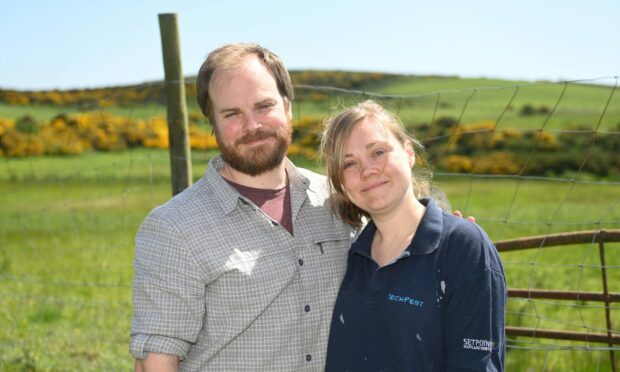 And while the planning application might still be in pending for approval, the couple is already pondering over what their life would look like if it's given the go-ahead.
Malcolm continued: "We moved in planning to be here for life. But in the grand scheme of things, if the quarry goes ahead, a third of the time we have in this property will be dominated by noise and dust.
"I don't think we would dream of moving and we don't want to live anywhere else. We want to live here. It just won't be as nice.
"For 15 years or more, this would be a very different place to live.
"And realistically, if there are problems with the noise exceeding the decibel limit, or if they contaminate the water, or if there's excessive dust or there's vibration from the blasts – they're not just going to shut down their entire operation.
"That's the thing – I don't want to live 15 years battling these people. Because they're a lot richer than us and they've done it for a lot longer, so they can have all the lawyers, while for us it would be an expense and a hassle.
"Once the permission is granted, there is not much that anyone can do."
---
The battle for their environment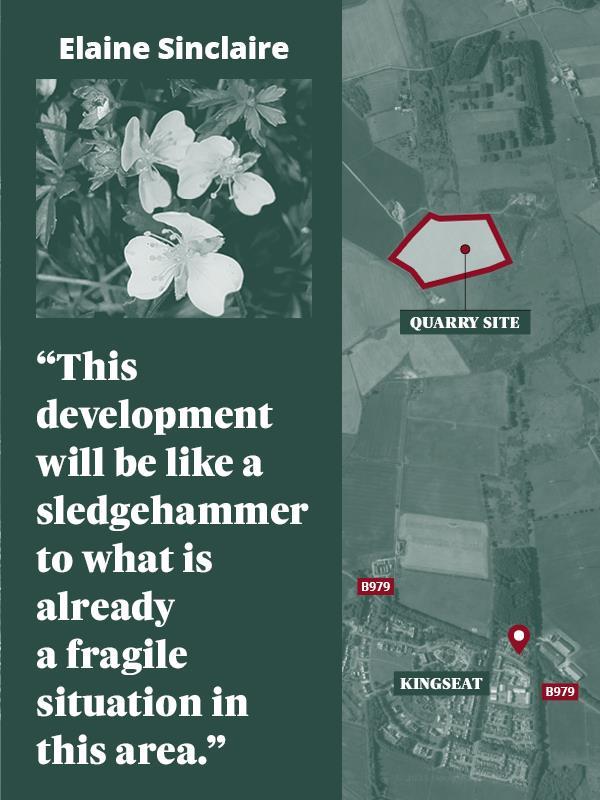 Residing on the other side of Beauty Hill, a woman with a strong love of nature fears the development of the quarry would be a "sledgehammer to an already fragile situation".
Resident Elaine Sinclaire has lived in the area for nearly 20 years and shares the potential drilling noise or big lorries on local roads aren't a bother to her.
For the 48-year-old, the habitat destruction a project like this would cause is tantamount to flattening the ground and covering it with concrete.
"This development will be like a sledgehammer to what is already a fragile situation in this area," she said, referencing the several new housing estates which have sprung up around Kingseat at Newmachar in recent years.
"It's great and people need houses. But this has squeezed vital areas of biodiversity which are needed and this development would just be a huge impact on top of that."
The importance of preserving the natural environment has cropped up in a number of objections, saying that a quarry would be a "scar" on the landscape and would negatively impact surrounding wildlife.
However according to the preliminary ecological appraisal carried out by independent experts, the long term plans for the site offer a clear opportunity for overall "improvement of the environmental quality and general biodiversity of the site area".
Elaine knows more than most people when it comes to habitat destruction and general biodiversity.
Growing up, her first job was in environmental assessment helping to look at plans for new developments and weigh up the risk to surrounding habitats.
Image shows Beauty Hill (left) and Blackhills Quarry in Cove, Aberdeen (right).
She explains that while Beauty Hill might just look like a typical Aberdeenshire field, the area is home to all kinds of birds, wildflowers and insects which depend on its wild corners.
"It's not just a field," she said. "I think some people don't understand how important the habitat is to different species and how all those species interact, and how interconnected they are.
"Animals don't thrive on farmland. Animals survive on the margins, the woodland strips and in the wild heath areas – that's where the wildlife is."
The environmental survey which recently assessed the area's suitability for the quarry noted that there are "no trees or buildings on the site" meaning that neither protected bats nor squirrels would be negatively affected.
Badger setts and brown hare sightings were also not recorded near the proposed extraction area.
In fact, the consultation suggests that the introduction of a quarry could bring considerable opportunity for "biodiversity enhancement".
It states: "The proposed restoration scheme incorporates several woodland types, as well as wet meadow around the ponds and areas of thorny scrub and this will enhance the biodiversity of the area, once implemented."
The current preliminary environmental report records that the proposed quarry site is mostly made up of grassland and scattered scrub which has "some value" for foraging and nesting but is not considered highly sensitive or rare.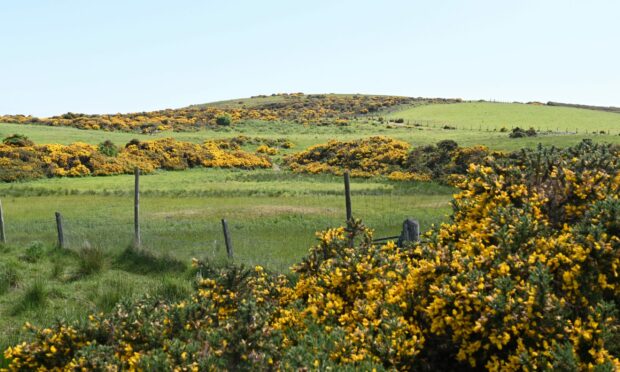 But with the current global climate emergency and millions around the country looking at Scotland's response, digging up a green space for heavy industry to move in might seem unexpected.
"Nature is amazing and areas do recover," said Elaine. "But it's what you lose in the meantime particularly when species are in decline.
"My enjoyment of it (Beauty Hill) doesn't matter. The biggest thing is the wildlife itself and their habitat.
"I don't think a quarry is the right thing to do.
"I'm not against development, but the environment loses out every time."
---
The battle for their community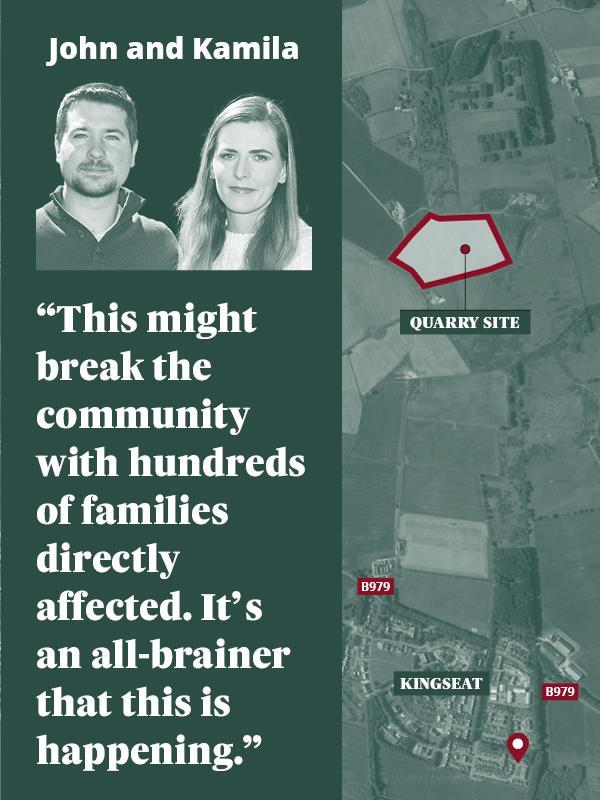 Fears have been raised that the controversial quarry could "break the community" by causing a mass exodus of dejected villagers.
For almost four years, John and Kamila Costaschuk had pictured spending the rest of their days in their ideal home in Kingseat – "surrounded by nature and friendly neighbours".
The couple bought their property on Canmore Gardens – around 0.6 miles from the proposed quarry – in 2017 after moving from Aberdeen.
The area south of Beauty Hill was the perfect place for them to raise a family and build a life for themselves – it was close to the local school and nursery, away from the main roads and in a "lovely" community.
But with the possibility of a quarry operating "next door", John and Kamila believe that current residents, including themselves, might be driven away.
They reckon that if the development goes ahead, the area would become a far less attractive place to live – with houses potentially left lying empty for years.
John said: "This is a family neighbourhood with hundreds of families who will be directly affected by this, with very limited, if not even zero, gain for the local economy.
"That development might break the community.
"We've established great relationships here – we play basketball on the streets, have barbecues in the green area out front with the parents taking turns to look after the kids.
"And that sense of community is going to disappear if there is a massive exodus and people start leaving because of the quarry.
"It's an all-brainer that this is happening."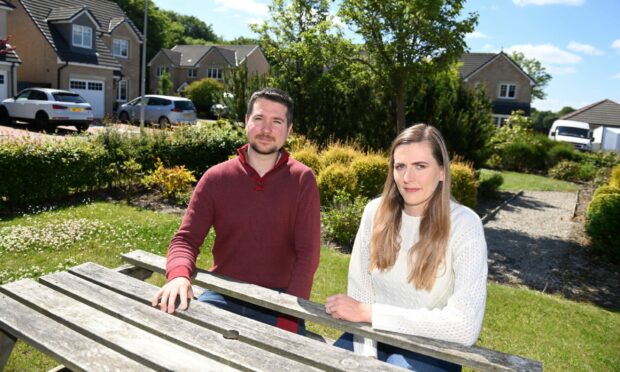 With plans to expand their family next year, John and Kamila had felt there couldn't be a more suitable environment for a child than a neighbourhood which homes more than 20 kids on their street alone.
But as plans for the rock aggregating quarry spurred up, the thought of raising a child in an area at risk of air pollution, noise and constant traffic began to seem "unimaginable" to John.
The 35-year-old said: "It's the kids in the area I'm really worried about, and the impact on people's quality of life.
"When you get a quarry in your area, it really becomes part of your daily life.
"Particles from it could be blown for miles, and that can have a really bad impact on health – especially with so many young families with kids here, and they are the most vulnerable to airborne pollution.
"We are thinking about having a baby next year – how are we going to get our kid to sleep during daytime with the noise? Am I going to be worried about taking my kid outside to breathe, to eat and to play?"
John added that the chance of being forced to live next to a quarry has made them question their future in Kingseat and further investing in their property.
One of the main concerns among locals is the discrepancy between the comments in support and in objection to the project in terms of location.
With 250 comments against and 171 for the development of the quarry, the verdict on whether it is welcomed or not by the public is hanging on the balance.
However, a breakdown of the comments according to the location they have been submitted from shows more than 89% of those "strongly" against the project are locals.
In comparison, nearly 91% of the positive ones have come from people who live further afield – such as Dundee, Fraserburgh, Banff and England.
The benefit outlined in almost all of the comments in support is that it will give employment in the area and the economy a boost.
But Kamila argues that the creation of two or three jobs as stated in the planning application will not be of any benefit to the community in Newmachar.
The 29-year-old fears that the future of those most impacted by the council's decision might be left in the hands of people who wouldn't have to experience the aftermath of the quarry development.
She said: "The biggest thing for locals is that their voices are heard and that the location of where the comments have come from, is really taken into consideration.
"It shouldn't be the case that people from outside our local area are deciding for us.
"If there were 100 jobs created, there will be perhaps some incentive for local employment, but with two jobs I just don't think there is such.
"Creating a quarry here will just put people off from the area – people will be selling their houses, because no one would want to live so close to a quarry.
"I can't imagine living here if it goes ahead. I would probably move away. I just wouldn't take the risk for myself, for my family and for my kids."
---
The battle for their families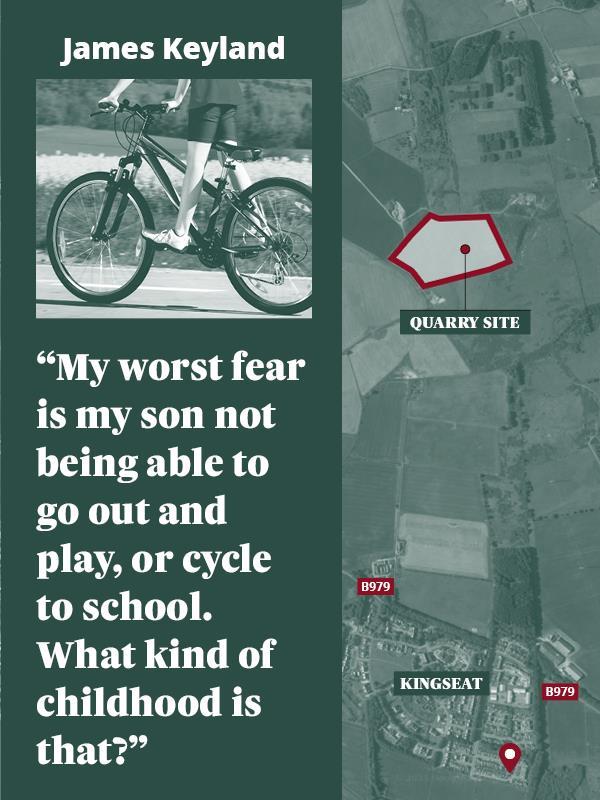 For James Keyland, the number one priority has always been to ensure his son has an idyllic childhood surrounded by a close-knit community.
With kids in "practically every house", the secluded area of Kingseat's Canmore Gardens has been a "brilliant" place for the 41-year-old to raise young Connor in a "safe and happy" environment.
However, with plans for the 24-acre quarry moving one step closer to possible fruition, James and his wife Carol fear its impact on their son's life could be "unthinkable".
While they share their neighbours' concerns about dust, noise and detrimental effect on wildlife, the couple's major worry is the increase in traffic in the area.
James explains drivers often exceeding the speed limit on the B979 Hillbrae Way to B999 road at Kingseat is not an unusual occurrence.
But the addition of 20-ton HGVs travelling daily on the "narrow, unsuitable" roads his nine-year-old son crosses to get to school, takes concerns for his safety to another dimension.
James said: "People have complained that cars are still, even at school times, running the red light and exceeding the speed limit.
"So on top of that traffic, you're now going to have additional traffic coming from the quarry.
"And it's going to be operating either side of the school hours, so the lorries are going to be running up and down all day potentially.
"That's one of my major concerns. I've got a nine-year-old son, who cycles to school every day.
"They'll need to do something, if they're going to grant permission for an extra god- knows how many ton lorries to get on the road.
"There are kids in practically every house here – the majority of them are school-aged and they're all pretty much making it all the way down there on their own, because of the traffic situation with the schools."
Last year, Aberdeenshire Council withdrew the school bus running from Kingseat to Newmachar Primary after the route was deemed safe for children to walk.
However, concerns have now been raised that the route for all HGVs exiting the quarry is set to lead a lorry towards a schoolkids' crossing point at Hillbrae Railway Bridge twice an hour.
The route taking all quarry traffic south on the U26C towards the B979 was proposed following negative response to the initial transport plans in 2019.
During a pre-planning application consultation, members of the public voiced their concerns about HGVs using the single track U26C road as access to the site, saying this would increase congestion and the risk of road incidents.
Following a review, a new route was proposed to shorten the distance between the access point and the B979 – explicitly stating HGVs "will not need to pass through Newmachar".
But James argues that this decision is still insufficient and fears the Hillbrae Railway Bridge could either be damaged or become a hotspot for incidents.
James said: "If that quarry is to go ahead, the council will have to put something in place for that junction at the top of Hillbrae Way, because I'm not going to be comfortable with Connor crossing the road there anymore.
"And also, it's unthinkable if anything were to happen to that bridge.
"We are isolated up here with the closest shop we've got being in Newmachar and then Dyce.
"And that's how everybody likes it. But if that bridge gets damaged, that would be 'game over' for us.
"I really don't know how things are going to change if that quarry is built. And that's one of the main concerns for me – not knowing what's going to happen.
"I just hope that the community's voice is loud enough to make a difference."
---
The battle for their business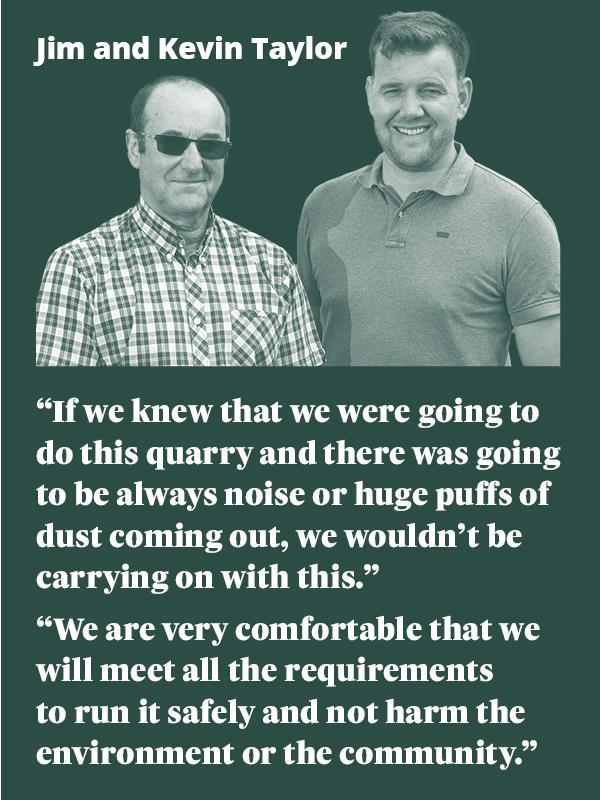 Despite the residents' concerns, the contractors behind the plans have asserted the quarry will cause no harm to the environment or the local community.
JKR Contractors Ltd vowed they have been "open and transparent" from the start and have approached the project with thought of its impact on residents.
The Ellon-based company first introduced their plans in 2019 and have since held a number of public consultations to "test the water" for the development.
For the last two years, the firm has looked at ways to alleviate some of the concerns raised by locals before formally seeking Aberdeenshire Council's approval to go ahead.
Such has been the amendment to the site's access route, which was the "biggest gripe" during the pre-planning application process.
Owner and director of JKR Kevin Taylor reassured they have taken all the necessary risk assessments, saying they feel "comfortable" the quarry will cause no harm.
He said: "We've been open and transparent since the start of the application and we've said all along at community council meetings that we are here to work together, and want to get everyone on board and then move things forward.
"We've employed consultants to take all the necessary risk assessments and we're quite happy that we've covered all avenues. And I think we've done as much as we can.
"If we knew that we were going to do this quarry and there was going to be always noise or huge puffs of dust coming out, we wouldn't be carrying on with this.
"We are very comfortable that we will meet all the requirements to run it safely and not harm the environment or the community."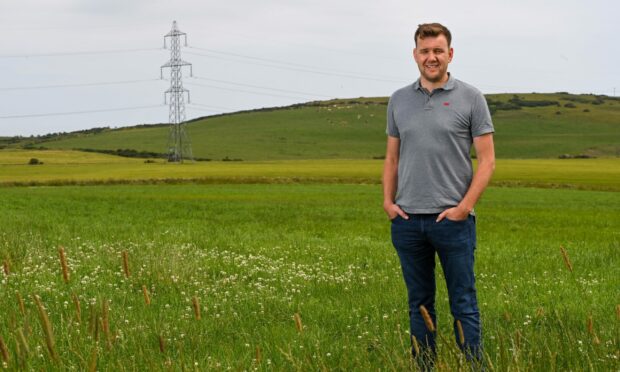 For JKR, the quarry represents vital means to keep their business alive and protect their employees after a difficult year for the construction industry.
According to Mr Taylor, the biggest problem at the moment is shortages in material, which has caused prices to go through the roof – with the company having to pay three times what they did this time last year.
The development of the quarry will allow the firm to self-deliver high-quality product, instead of sourcing it from other sites.
The location was specifically selected after a geology study concluded the land at Beauty Hill was the "perfect" source for good hard rock, which is "probably the best in the area".
Mr Taylor stressed that although there will be limited job opportunities for new staff, the project will help safe-guard the livelihood of their more than 150 employees.
"The problem is that the economy and the construction industry is just going absolutely mental at the moment," he said.
"With material shortages, people are profiteering and we are now getting completely hammered.
"We're trying to get this to protect our business and be as competitive as we can to keep our business going and keep all the employees and jobs within the company.
"This is something to lower the risk and put us in control of our own destiny."
As a family-owned business with local roots, JKR have said they are committed to continue working together with the community and respond to any concerns.
Mr Taylor added: "Once we're fully operational, if there are any concerns, people can just pick up the phone and let us know, because of course, there is a community relationship there.
"We are not a national company just coming here to walk over people.
"We're local to the area, we have neighbours as well and if we get planning permission in place and get started here, we are still going to think of the residents."
The planning application is expected to go before the area committee within the next two months.
However, due to the complexity of the planning application and the amount of documentation submitted to Aberdeenshire Council, the date is yet to be confirmed.
---
Contributions:
Graphics by Mhorvan Park
Data visualisations by Emma Morrice
Additional reporting by Philippa Gerrard
Videos and photography by Kenny Elrick, Paul Glendell and Callum Main
---