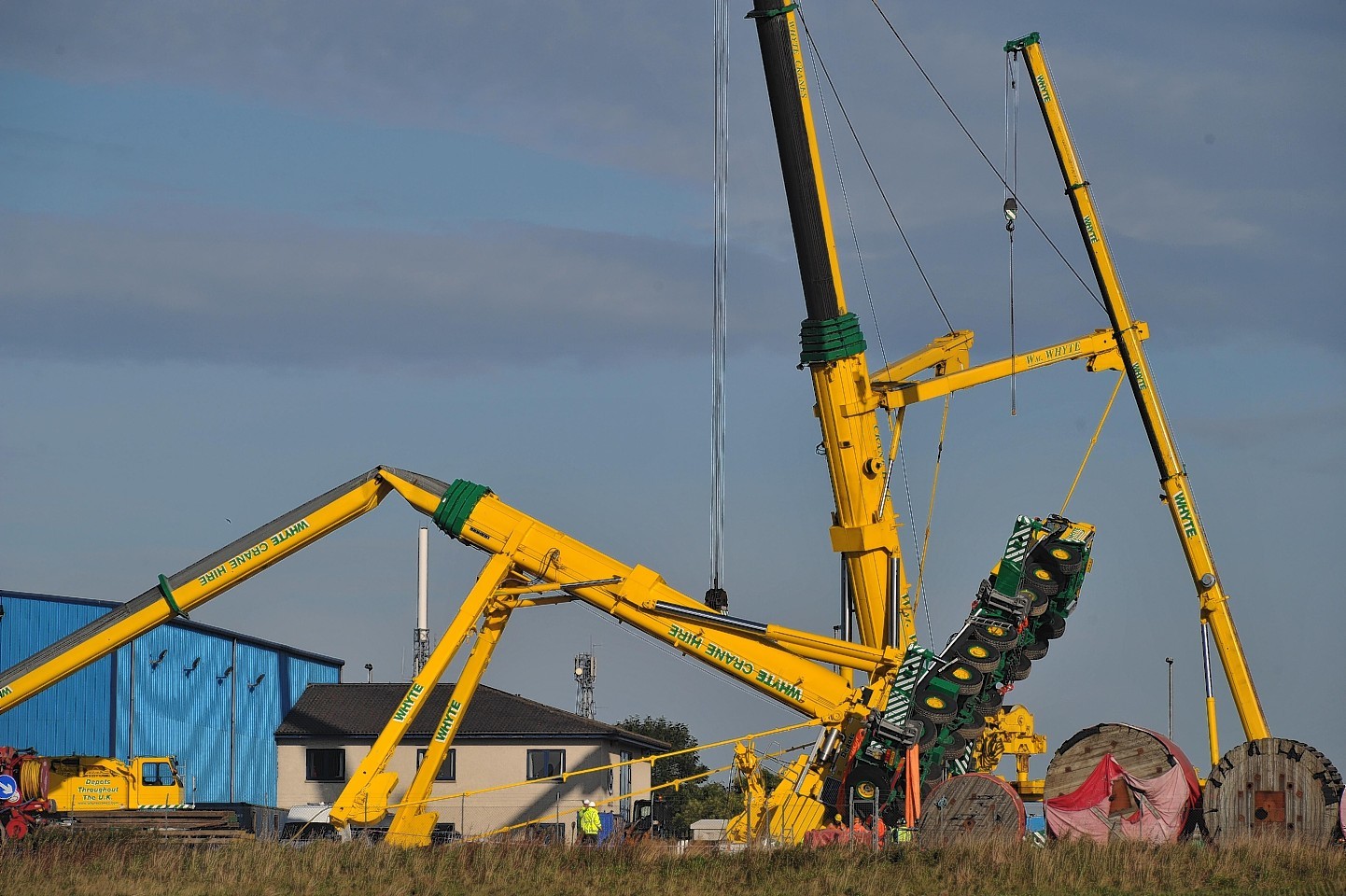 A massive recovery operation has been launched to remove a toppled crane from a north-east industrial estate.
The 96-tonne vehicle has been stuck in an engineering firm's compound on the outskirts of Peterhead for the past four months.
It fell over when its tail sank into soft ground at the Dales industrial estate in Peterhead.
The £3million vehicle's huge lifting boom buckled and left the driver's cab 50ft above the ground.
No one was injured in the incident at Aquatic Engineering's premises.
The vehicle's Ellon-based owner, Whyte Crane Hire, has been meticulously planning the salvage operation which will take place over the next few days.
Dozens of workers will be on site operating the multiple cranes needed to lift the eight-axle monster.
The scale of the operation is such that police will close-off the surrounding roads on the industrial estate to ensure members of the public do not get too close.
Whyte Crane Hire is liaising with vehicle manufacturer Liebherr and Aquatic Engineering.
A spokeswoman for Aquatic said: "We are working with the local constabulary to restrict access to all but those engaged in the recovery, or working in and around the Dales industrial estate for the duration of the operation.
"A team of 40 people will be on site, together with four or five cranes needed to assist in the recovery.
"Aquatic is also liaising with other local businesses in the area, community safety groups, and Aberdeenshire Council. to ensure the local community is kept informed of the recovery."
The firms involved have urged the public to avoid the area for safety reasons.
Efforts to lift the crane in the days after the accident proved were unsuccessful and the yellow and green machine is visible from the A90 Aberdeen-Peterhead route.
The busy industrial estate area has become popular with sightseers and photographers taking "novelty" pictures.
The Liebherr machine has a lifting capacity of 500 tonnes and it is understood Whyte Crane Hire took delivery of it only weeks before the accident in May.
The firm's managing director was unavailable for comment last night.