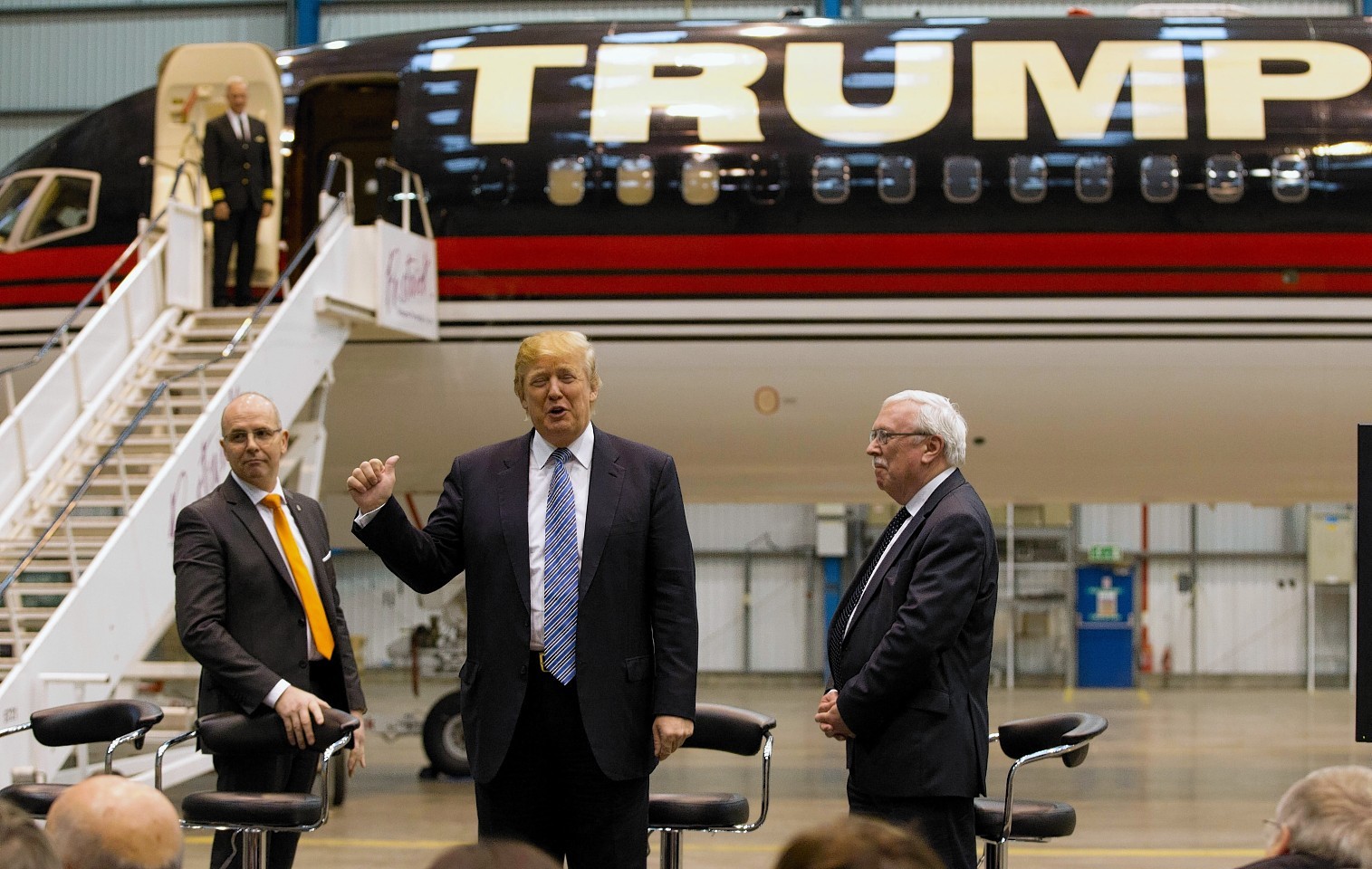 Donald Trump has entered into a "strategic alliance" partnership with a troubled airport in Ayrshire in a move that will likely benefit his golf resort in Aberdeenshire.
Prestwick Airport will be the base for all Trump Aviation Operations which includes Mr Trump's private Boeing 757 and Sikorsky 76B Helicopter.
The Trump Organisation has agreed to work with facility bosses and use its connections in the aviation and tourist industry to try and encourage more airlines to use the facility and turn it into a thriving transport hub.
Breathing new life into the airport, which was taken over by the Scottish Government last year after it emerged it was losing £800,000 a month, would benefit the US tycoon's nearby Turnberry golf resort.
The airport, which has lost some Ryanair flights, is said to be an ideal location for private jets to take off and land from. It is understood the Trump Organisation will use the helicopter to ferry golf tourists to and from the firm's showcase golf resort at Menie in Aberdeenshire.
It may also be deployed to take players to Mr Trump's golf resort at Doonbeg, in Country Clare, Ireland.
Mr Trump arrived at Prestwick in his Boeing 757 aeroplane and celebrated the announcement with airport chief executive Iain Cochrane and South Ayrshire Council leader Bill McIntosh.
The New York-based businessman said: "We are thrilled to be partnering with Glasgow Prestwick Airport.
"They have a tremendous facility with a unique rich history.
"Their expert team and state of the art operation is perfectly aligned with our global client and member base that travel frequently to Scotland, home to many of the finest golf resorts in the world including the legendary Trump Turnberry and Trump International Golf Links in Aberdeen."
The Trump Organisation said the airport provided the "perfect gateway for private and corporate jet access" to Trump Turnberry, which is 20 miles away.
As part of the partnership, Trump and Prestwick will be offering transfers via the helicopter, executive cars or private hire.
Mr Cochrane said: "We are very excited to be working closely with The Trump Organisation going forward and are delighted that Prestwick has been chosen to be the European base for The Trump Sikorsky Helicopter.
"Forging a new partnership between the airport and The Trump Organisation will undoubtedly be mutually beneficial to both parties however it will also bring significant opportunities for the region as more inbound visitors travel to visit the legendary Trump Turnberry Resort."
The Scottish Government has promised to get the airport thriving again before selling it back to a private investor.
But the Trump Organisation has made it clear it is not buying it.