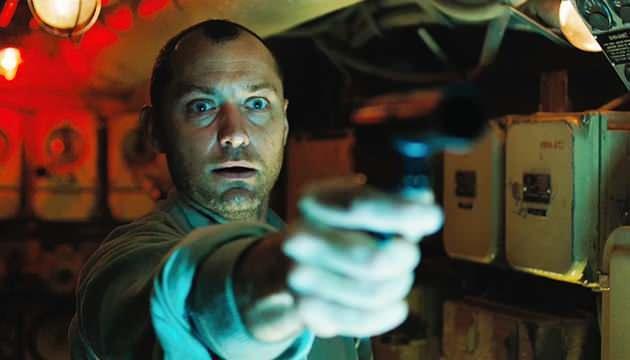 Acclaimed actress Jessica Chastain is the latest Hollywood A-lister to come under criticism for her attempt to master a Scots accent on the big screen in The Huntsman: Winter's War.
It comes after Jude Law came under hefty scrutiny for his shaky attempt to master an Aberdeen accent in Black Sea in 2014.
And so we have compiled a list of the most questionable and downright lazy Scottish accents ever attempted by actors and actresses in film and TV, as well as the guys who got it spot-on.
The worst Scottish accents ever filmed
Bill Travers in Geordie
The Sunderland-born actor, before landing his most revered performance in Born Free, landed the role of gentle giant, "wee" Geordie in this 1955 film. In it he plays a gamekeeper's son who finds he has a knack for throwing the hammer in the Highland Games ring. It's not long before Geordie is on his way to compete in the 1956 Melbourne Olympics.
A rather prosaic attempt to master the Highland accent, but Travers' accent might not even be the worst in the film.
James Doohan as Star Trek's original Scotty
Scotty was the original pseudo-Aberdonain, as alluded to in season two episode of the classic sci-fi show "Wolf in the Fold". In this episode he proclaimed in that Leprechaun/Canadian/swash-buckling pirate voice to be an "old Aberdeen pub crawler".
Doohan's atrocious Scots accent is the stuff of legend, the benchmark of all bad, poorly-researched and plain weird Scottish accents.
Robert Duvall in A Shot at Glory
You don't want to be critical of such an acting heavyweight, the man is a legend of the big screen with more than 50 years in the industry.
He's more than proved his acting credentials in such films as Network, The Godfathers, Apocalypse Now, To Kill A Mockingbird, THX 1138, The Conversation, and, well….the list goes on and on and on.
One misstep in his career might be the accent he adopted in this portrayal of a Scottish football manager in the fictional town of Kilnockie. The film even stars Rangers boss Ally McCoist as the team's trouble-prone striker.
There are flickers of the Scots dialect in Duvall's confounding accent, but this one is up there with the worst of the worst.
Christopher Lambert in Highlander
The Frenchman landed the role of Connor MacLeod in this quintessential 80s action film. It sees the leading man trapped between Scottish clan warfare in the 1500s and modern day New York.
His woeful Scots accent is probably best summed up in that immortal line – "I canna sweeem you Spaneesh peacock".
Lambert, who struggles to disguise his French accent in most films when speaking the English language, delivers what most be among the worst Scottish accents in cinema history.
Tom Hanks in Cloud Atlas
A brief and somewhat fleeting character in Wachowski's ambitious three-hour epic, but a questionable attempt at the accent all the same.
Cloud Atlas sees its body of A-listers embody different characters in various strands of time – all of them inexorably bonded by their previous lives.
Part philosophical, part farcical, the great Hanks attempts to master both an Irish brogue as an author named Dermot Hoggins and an Edinburgh drawl as a corrupt hotel manager in the film, and both are pretty poor.
However, this is the man from Saving Private Ryan, Philidelphia, Big, Forrest Gump, Captain Philips, Toy Story, Catch Me If You Can and so many more….so we think, perhaps, we can just about let it slide.
Harrison Ford (briefly) in Indiana Jones and The Last Crusade
It was intentionally bad, and epitomised the character's adventurous spontaneity and habit of throwing himself into dangerous situations he hadn't quite thought through.
But boy, was it bad.
Ford's Jones spends several minutes trying to convince a German butler that he is "Lord Clarence MacDonald" before he is caught out and resorts to using his fists.
Self-referencing and therefore wary of its own badness, but still utterly terrible. You would have thought Ford had picked up a thing or two from his co-star, Sean Connery…
Cate Blanchett in How to Train Your Dragon 2
We are actually still unconvinced Blanchett was going for a Scottish accent with this one. Her character's dialect fluctuated and re-morphed between a cryptic Scots accent and something more Northern Irish sounding.
We assume, given her character's other half was voiced by Paisley man, Gerrard Butler, that she was trying to "nail" a Scottish accent.
Another actress we can forgive for her body of work though, she is one of the most accomplished actresses of our time after all, and her Oscar-wining turn in Blue Jasmine last year somewhat makes up for this.
However the less said about her Russian accent in Indiana Jones and The Kingdom of the Crystal Skull, the better.
Jessica Lange in Rob Roy
Liam Neeson did an okay job in his depiction of Scottish folk hero Rob Roy MacGregor, but we can't say the same for American actress, Jessica Lange, who plays his wife.
Terrible.
Isla Fisher in Burke and Hare
Fisher was born to Scottish parents and raised in Australia, but still struggled to get the accent right in this Edinburgh-set black comedy about two of the capital's most notorious criminals.
Michael Caine as Alan Breck in Kidnapped
National treasure (Sir) Caine, is the star of The Italian Job, The Man Who Would Be King, Get Carter, The Cider House Rules, A Bridge Too Far and The Dark Knight trilogy, so we'll tread very carefully here.
In Delbert Mann's Kidnapped he plays a wandering Jacobite in post-Colloden Scotland who befriends David Balfour (Lawrence Douglas). The Robert Louis Stevenson character is based on real-life Jacobite soldier, Alan Breck Stewart.
Caine's accent, however, doesn't exactly hit all the right notes.
Bill Thompson as Jock in Lady and the Tramp
Remember Jock the Scotty dog from this Disney classic? He was voiced by Indiana-born voice actor, Bill Thompson. Click below for his take on Scottish folk song, Loch Lomond, and see what you make of his accent….
Passable Scottish accents?
Mike Myers – Shrek/Fat B*****d in Austin Powers/Scottish Dad in So I Married An Axe Murderer
Myers goes a little intentionally OTT for comedic effect with the Scottish accents in his films, but his efforts have been better than most, and generally have a central belt twang to them.
Either way, the accent worked okay with Shrek, was funny in Austin Powers and was passable in I Married An Axe Murderer. They weren't perfect accents, but we doubt he ever really intended them to be perfect.
https://www.youtube.com/watch?v=zCrT96QJBfQ
Henry Ian Cusick as Desmond Hume in Lost
Cusick was born in Peru to a Scottish father and a Peruvian mother and raised in Trinidad, before moving to Scotland age 15. He identifies himself as a Scot, and the character was actually named after Scottish philospher David Hume.
Even if his accent wasn't spot on, Cusick was one of the best things about this show, breathing new life into it in season 2 and delivering one of Lost's most solid overall performances.
Can we forgive Mel Gibson for his accent in Braveheart yet?
According to Braveheart co-star, James Cosmos, Gibson didn't wanted to star as Scottish hero, William Wallace, to start with and had hoped to remain firmly behind the lens on set. However, producers of the film are said to have wanted his star quality to draw in worldwide audiences, and got their way.
Say what you like about all the historical inaccuracies, it's still a gripping, gory and enjoyable watch.
We CAN forgive:
Robin Williams in Mrs Doubtfire
The man's a legend. And if you grew up in Scotland in the 90s, his accent in this beloved kids movie is unlikely to have bothered you.
AND Groundskeeper Willie
Just because of this classic monologue…
And the best…
John Rhys-Davies as Gimli in Lord of the Rings
Welsh thesp Rhys-Davies gives a raspy, croaky, bearded and brilliant turn as Dwarf-warrior, Gimli (son of Gloin) in Peter Jackson's epic fantasy trilogy. He has somewhat of a way with accents, and was just as convincing as Egyptian excavator, Sallah, in the Indiana Jones films.
Brendan Gleeson as Hamish in Braveheart
When it comes to our accents, perhaps our Celtic cousins find it easier to master than others. Irish actor, Brendan Gleeson, was convincingly Scottish in Braveheart. Although large parts of the film were not actually shot in Scotland, but in the counties Wicklow, Meath and Kildare near his home city of Dublin.
https://www.youtube.com/watch?v=Xp_BFifA8Bg
Jonny Lee Miller as Sick Boy in Trainspotting
You wouldn't even know he was born and raised in England. The actor is said to have honed his accent in the pubs and clubs of Glasgow, even adopting it in public in the run up to – and during – filming. Apparently his accent was so convincing that many people believed he was in fact a Scot.
https://www.youtube.com/watch?v=UQ9o0yZtiAQ
Jamie Bell in Filth, The Eagle and Hallam Foe
Bell has just about nailed the accent on the head. Is it too soon to name him an honourary Scot?
The worst of any accent ever?
Sean Connery as Jim Malone in The Untouchables
In the end, it turns out there may be a Scottish actor behind the worst accent ever committed to film. Sean Connery wasn't very Irish at all as Irish-born cop, Malone, in The Untouchables.
He just sounded like he usually does. Like Sean Connery. And he won an Oscar for it.
Hats off to him though, because despite the lack of an Irish accent, he is still the best character in the film (quite a feat next to Robert De Niro's Al Copone). He steals every scene and, generally, gives us one of the most memorable screen characters in any crime film, ever.
That's the Chicago way….
Honourary mention
Kevin McKidd spikin' the mither tongue in Brave
It was the greatest (and probably, only) north-east of Scotland in-joke in cinema and it's worth a mention just because we were so ecstatic to hear Elgin-born McKidd find a place for the Doric in a Disney Pixar film.
He may have baffled audiences elsewhere in the world, but we kent fit ye were on aboot Kevin, cheers min!