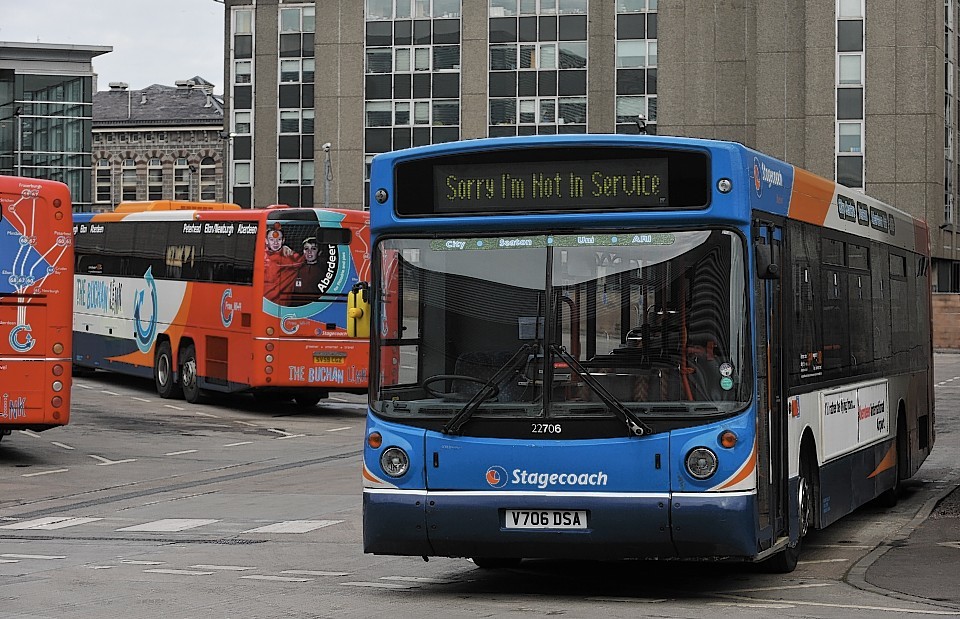 A £2.9bn vision to pull Aberdeen into the 21st Century could create a network of superfast bus-only roads in a bid to cut commuting times.
Cars will be completely banned from the route of the Cross City Rapid Transport System with a ring of car parks to be created on the city fringes.
The arrival of a rapid transport scheme would  bring Aberdeen in line with other European cities, such Paris and Stockholm
It comes as  civic leaders set out their bid to secure almost £3bn in funding for infrastructure improvements, with the proposals to be delivered to Westminster later this month.
Transport is key to the upgrade with civic leaders from both City and Aberdeenshire urgently hoping to address congestion and poor journey times.
This is seen as crucial to keeping business in the north east while improving its images as an attractive place to live.
Councillor Jenny Laing, Leader of Aberdeen City Council, said there was now a need for "innovative" public transport.
She said: "We have seen large business parks growing up on the edges of the city, along with large-scale housing developments.
"We want to provide suitable, modern transport for people to get from home to work and from work to home."
Five new train stations are also planned as part of a bold new suburban network.
It is anticipated that the rapid transport system,  will connect to the new stations, as well as key sites such as the airport and universities.
Bucksburn, Kittybrewster, the AECC, Cove and Newtonhill have been selected by civic leaders as locations for the new stops.
These in turn will be connected to Portlethen and Westhill.
If successful, the City Region money would also be spent on speeding up the planned upgrade of the Aberdeen to Inverness line.
Councillor Laing added: "We have seen the benefits that better rail connectivity can bring.
"We really want to open up the north east to trains. At the moment, for some, it is taking longer for people to get the Central Belt by train than to fly abroad."
Plans also include cutting rail journey times between Aberdeen and Inverness and to the central belt.
The Aberdeen City Region Deal sets out infrastructure improvements for the next 20 years and seeks to address the area's poor roads, weak public transport and lack of housing.
Improving the infrastrucute around Aberdeen Harbour is also key to in
Councillor Jim Gifford, leader of Aberdeenshire Council: "This is all about infrastucture, about rail, about roads, about air.
"If we didn't get the infrastructure and support mechanisms right in the north east, a lot of the companies are going to go somewhere else.
"We are competing with the rest of the world when it comes to oil and gas."