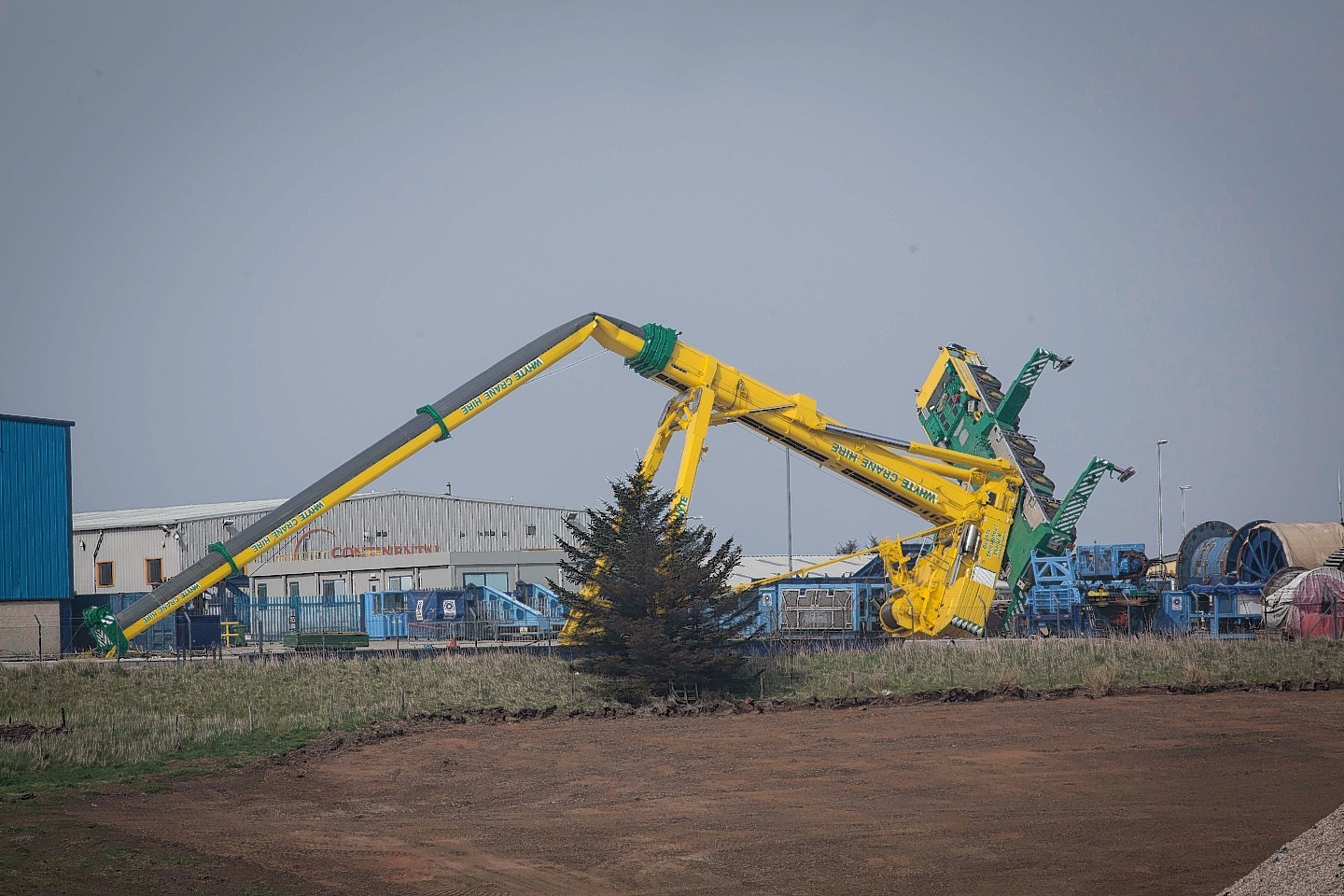 A multi-million pound crane which collapsed at a north-east industrial site remains in place two weeks after the incident.
The eight-axle vehicle, worth more than £3million, toppled over when one of its tail-end stabilisers sank into the ground at Dales Industrial Estate, Peterhead.
The accident happened at a site operated by subsea business Aquatic on the afternoon of May 5. No one was injured when the 630ft vehicle went over.
Previous attempts to move the stricken crane proved fruitless and it remains in place visible from the main road into the Buchan town.
A spokeswoman for Aquatic said  plans were being put in place to attempt to salvage the machine, owned by Tipperty-based Whyte Crane Hire Ltd.
She said: "At the moment I do not know when the crane will be moved but plans are being put in place.
"Whytes are trying to work out the best way to recover the crane and until that is done it will remain at our site."
An investigation by the Health and Safety Executive is now under way, amid concerns that the site was not suitable for a vehicle of this size and weight.
The cab of the crane was let suspended more than 50ft in the air and the boom buckled to a 90 degree angle.
Whyte Crane Hire Ltd, have so far refused to comment on this latest incident to involved their equipment.
Six years ago, one of Whyte Crane Hire's vehicles was at the centre of an investigation into a road accident which claimed the lives of a woman and her two daughters.
In 2012, a sheriff ruled that the firm played a fundamental role in the events leading up to a crash in January 2008 in which Johnshaven woman Ann Copeland, 45, and her daughters, Niamh, 10, and Ciara, 7, died.
They were on a school run when their car skidded on the A92 Stonehaven-Dundee road near St Cyrus. It was later discovered that hydraulic fluid that had leaked from a mobile Terex crane – which had been on the road shortly before the family set off – was responsible for Mrs Copeland losing control of her car.
A fatal accident inquiry ruled that the accident could have been avoided if the mobile crane had been properly maintained.
In 1998 Malcolm Whyte, 23, son of company owner William was killed when part of a crane owned by the firm fell on him at Macduff Harbour.