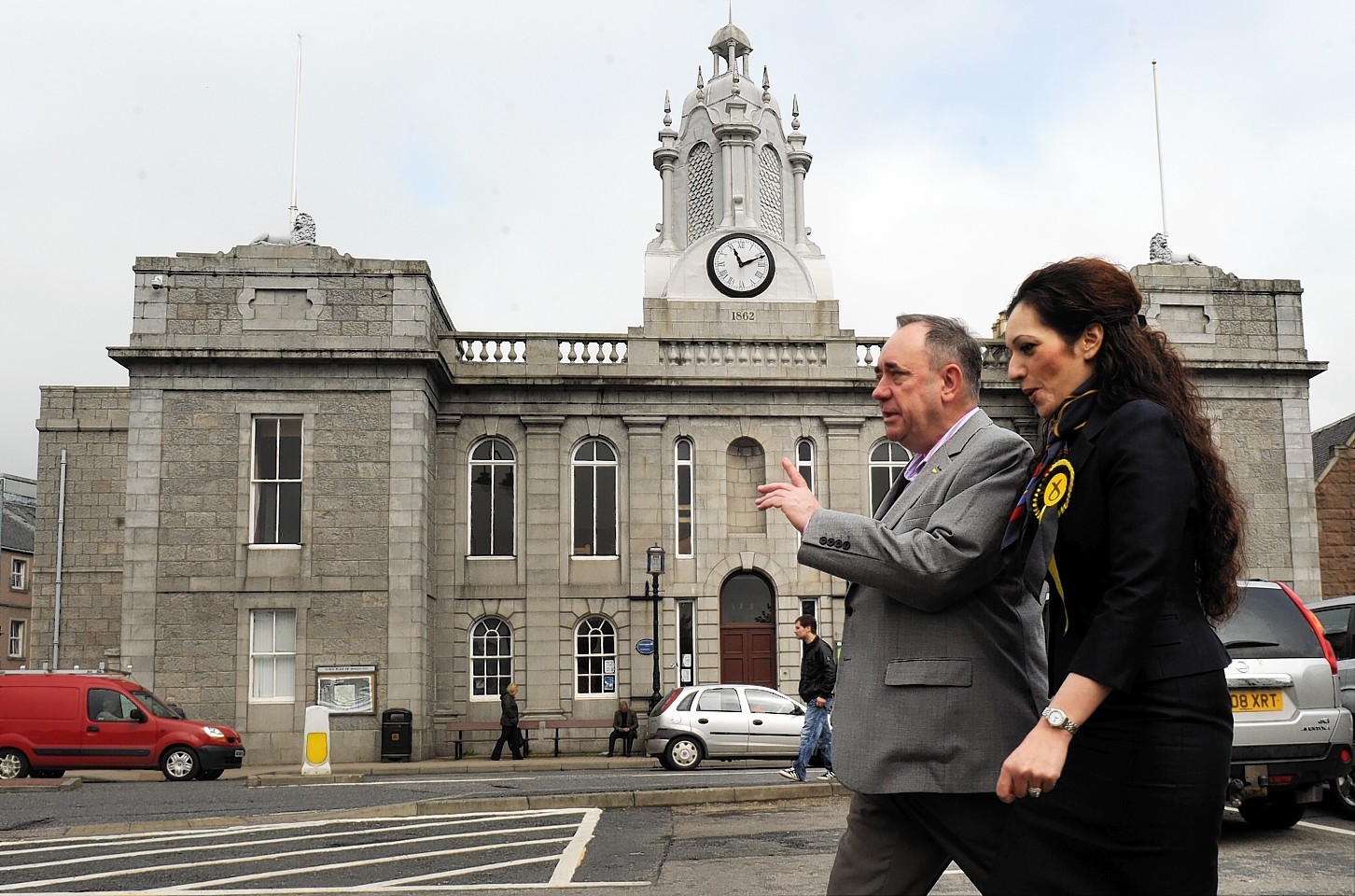 First minister Alex Salmond is urging north-east voters to back the SNP as the final countdown to the European elections begins.
The Aberdeenshire East MSP was on the campaign trail in Inverurie yesterday to lend support to SNP candidate Tasmina Ahmed-Sheikh.
The pair chatted to residents in the centre of the town yesterday morning.
Europe goes to the polls on Thursday and two new opinion polls suggest that the fight for Scotland's sixth seat could be a two horse race between the SNP and UKIP.
Mr Salmond said: "As this campaign enters its final stages, today's polls confirm that in Scotland voters are faced with a straight choice between Tasmina Ahmed-Sheikh and Nigel Farage's UKIP for Scotland's sixth seat.
"The intolerant message that UKIP is peddling has no place in Scotland.
"And the way to keep UKIP's agenda out of Scottish politics is by voting SNP.
"In our candidate Tasmina Ahmed-Sheikh, we have the antithesis of everything UKIP stand for.
"She represents the choice in this election between the new Scotland we want to build and the miserable, anti-European agenda of UKIP and the Westminster parties."
Activists across Scotland will continue to campaign over the next few days to encourage votes for the SNP, which Mr Salmond says will lead to a stronger relationship between Scotland and Europe.
Mr Salmond added: "Where UKIP would undo the progress we have achieved in Scotland by abolishing free personal care, bringing back tuition fees, charging for prescriptions and privatising the NHS, we want to work with our European partners to deliver more progress for people in Scotland.
"A vote for the SNP on Thursday is a vote for a tolerant, welcoming Scotland that rejects the deeply unpleasant politics of Nigel Farage's UKIP."
Meanwhile, the SNP has published its priorities for animal welfare in Europe including fighting for an end to EU subsidies for bullfighting and new EU-wide minimum standards of care.
The group's MEP Alyn Smith and candidate Toni Giugliano launched the proposals on a visit to the Scottish SPCA's animal rescue and rehoming centre at Balerno yesterday.
Mr Smith said: "A vote for the SNP on Thursday is a vote for a group of MEPs who will work hard to secure better protections for animals and make promoting animal welfare a priority for Europe."