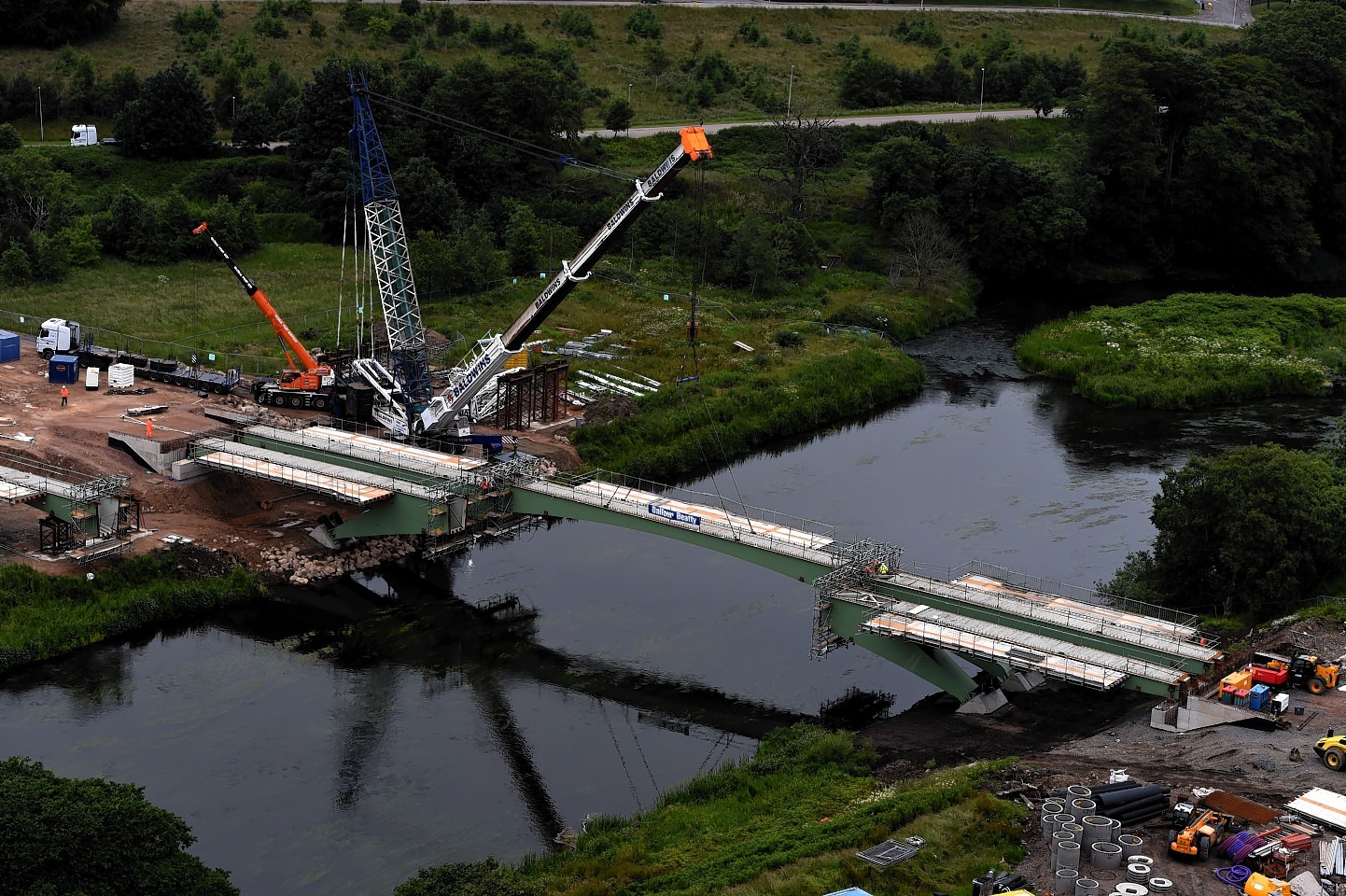 This is the moment when one of the most eagerly-awaited construction projects in Aberdeen finally slotted into place.
Crowds of people turned out yesterday to watch teams carry out one of the last stages in the multimillion-pound Third Don Crossing.
The final structural section of the bridge – intended to ease traffic misery for commuters heading into the city from the north – was lifted into place by a 1,000-tonne crane at Gordon's Mills Road in the Tillydrone area of the city.
The Aberdeen City Council-led project will encompass a new single-carriageway link road between the Parkway/Whitestripes Road junction and the Tillydrone Avenue/St Machar Drive junctions.
Residents and business-owners arrived at a special viewing area to watch as the central steel sections were raised throughout the day.
Councillor Ross Thomson, Hazlehead/Ashley/Queen's Cross ward, was among the observers.
He said: "This is a key milestone in the construction of the bridge which has taken over 30 years to finally get to this point.
"It's a really historical moment, and I think that's reflected in the fact that a good number of people have turned out to see the last bit of steel being put into place.
"Real progress has been made with the construction, and it has been in such a short period of time.
"This means a huge amount for the city."
He said the council had invested £18million of its own money in the development, believing it vital if Aberdeen is to compete on a UK level and as a global city.
"This is going to help end the misery that motorists experience as they try and get across and around the city, which can be a complete nightmare," he added.
"For too long there has been under-investment in this city's infrastructure and this has been one of the key concerns of residents and business-owners.
"I'm glad the council has taken leadership in this and, in conjunction with the Haudagain project and the AWPR, this should help transform our infrastructure."
The beams were transported to the site in six sections, four to Grandholm Village on the north side of the River Don in June, and the other two to Tillydrone shortly afterwards.
The bridge will feature two footpaths, a cycleway, and two lanes for traffic.
Now the steel beams are in place, the next step will be to construct the crossing's concrete deck.
Work on the bridge – which is being led by construction company Balfour Beatty – began last August, and is expected to be completed in January.