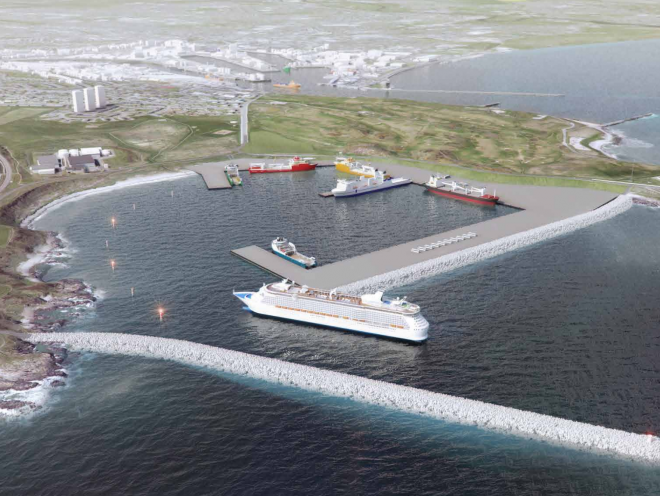 An opponent of the £320million plan to expand Aberdeen harbour yesterday urged councillors to rethink the project – so it is not simply a "concrete jungle".
Members of the communities, housing and infrastructure committee discussed the plans for Nigg Bay at their meeting yesterday, and agreed they would go out to public consultation.
The controversial proposals to extend the existing harbour to the bay were first unveiled in 2012 by Aberdeen Harbour Board.
It is hoped that the expansion could allow for deeper berths to bring cruise liners and the decommissioning of oil rigs to the city.
Construction is planned to begin in 2017 and be completed by 2021, and it is estimated the development could increase Aberdeen's port-related economy to £2billion in 20 years time.
But the scheme has come under fire from a number of community groups, who fear a loss of wildlife and an increase in traffic congestion among other issues.
Local community councils were asked for their responses two weeks before it went to committee yesterday.
Renee Slater, a leading critic of the development, yesterday told councillors that a social media campaign to stop the expansion has attracted more than 500 people.
She said: "We would like to see a development more focused on tourism and leisure.
"The bay is a sacred area for residents, where a lot of people scatter the ashes of their relatives.
"They say it will bring more money into the city but I can tell you that money won't be going to Torry.
"There may be a few extra jobs created but we will lose all access to the bay and there will be no access to Torry battery.
"We are not against development of the bay but what we don't want is a concrete jungle."
But committee convener, Labour councillor Neil Cooney, called the plans "the most exciting thing to happen to Aberdeen in
a generation" and urged people to make their views known.
He said: "It's a key growth area of the city's economy and will breathe new life.
"It will create jobs and sustain development as we move away from oil."
A six-week consultation on the proposals will be held in the coming two months.