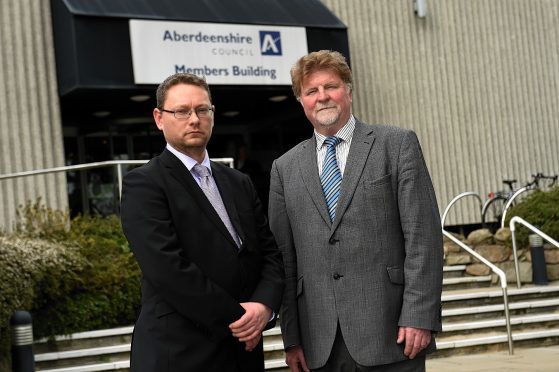 Aberdeenshire Council has a moral obligation to open its doors to refugees fleeing war torn Syria, two senior councillors have said.
Administration leaders Richard Thomson and Martin Kitts-Hayes said last night that the authority would do everything in its power to support the 50 families it has pledged to support.
Although no date has been set for their arrival, concerns have been raised that housing refugees will deepen the north-east's council house crisis.
There are currently 13,000 people on the waiting list for properties in the region.
But Mr Thomson and Mr Kitts-Hayes said the council has a duty to help.
Mr Thomson said: "There are different ways it can be approached. This isn't a competition between everyone for houses. They are not competing vulnerable groups.
"It's important when you see the horrors people are fleeing from that we stand ready to play our part – this is meeting a moral obligation we have to our fellow humans.
Mr Thomson said the authority would work with private landlords to find homes for the refugees.
Fellow co-leader Mr Kitts-Hayes added: "We can understand that the 13,000 people on the waiting list are finding it very difficult to get council property.
"But we have to recognise that sometimes you have to put your personal situation to one side. These people are being bombed on a daily basis and we can't call ourselves a caring council if we sit idly back and do nothing."