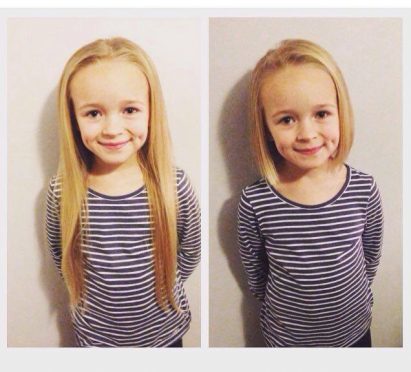 A north-east youngster has donated her golden locks to a cancer patient after selflessly giving up her Christmas wish to another child.
Ava Rose Sutherland decided to make another young girl's dream come true when she was asked by mum Claire Kennedy, 30, what she wanted from Santa.
The eight-year-old from Banff is now sporting a much shorter hairstyle after donating enough of her own hair to make a wig for a young cancer sufferer.
Ava made the donation through the Little Princess Trust.
Last night, Ms Kennedy described her daughter as "something special".
She said: "I don't know if she had seen someone else do it, or had heard from someone about doing it, but a couple of months back she said she wanted to cut all of her hair off and donate it to another little girl who was going through cancer treatment.
"I just brushed it off, I just thought she was saying it because she was young."
But Ava kept raising the issue until her mum relented.
Ms Kennedy added: "I think there had maybe been one or two other people from her school that did it.
"She's been adamant she was going to do it, so I booked her in to get it done and we decided to make a JustGiving page to see if she could get sponsors as well – which we've since donated to Children with Cancer UK.
"She's raised £600 and the hair she's donated is enough for a full wig for another little girl.
"She loves it – she's fair chuffed and tells everyone that she sees that she's done it. Everyone is amazed and really delighted with her. I'm very proud.
"She's something special."
Little Princess Trust helps boys and girls diagnosed with cancer by providing wigs made of donated hair.
Children with Cancer UK funds research into childhood cancers and also supports families whose children have been diagnosed with the disease.