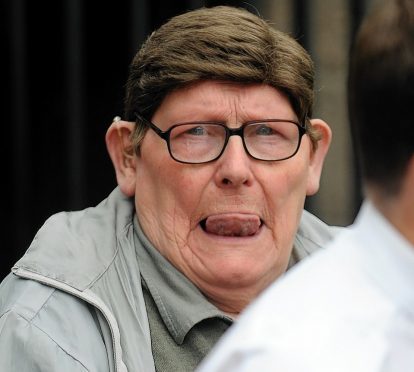 A pensioner paedophile who repeatedly raped a young girl was back behind bars last night after he was caught loitering in a city park.
William Stables was handed a 10-year sentence in January 2002 after he admitted subjecting the young child to rape and abuse over a four-year period. He was released on licence in September 2008.
Yesterday, the 76-year-old appeared back in the dock at Aberdeen Sheriff Court after he admitted breaching the terms of his order which allows him to remain at liberty with minimal risk to the public.
As part of a sexual offences prevention order, Stables is subject to a number of restrictions.
But between September 2, 2013 and November 27 last year the pensioner was using a Bank of Scotland account which he had not shared the details of with the police.
And he was caught loitering in Aberdeen's Westburn Park on a sunny Sunday afternoon when it was full of children.
The court heard that Stables was under a condition which forbid him from being in the area or loitering near places he may encounter children – including schools, parks and leisure centres.
Representing Stables, who has now broken his order on four occasions, solicitor John McLeod said his client was honest with police when he was approached on June 14 this year.
He said he immediately told the officers he was a sex offender and said he was only in the park to "kill time" while he waited for his pastor.
Mr McLeod said that Stables, a prisoner at HMP Grampian, did not believe he was in breach of his order as he had not tried to approach the children.
The court heard the police trusted what he had said, and only realised he had breached his conditions when they returned to the office without him and checked.
Mr McLeod said Stables, who had been staying in the Balnagask area of Torry, would be struggling to maintain the upkeep of his house and car if a lengthy prison sentence were imposed.
However Sheriff Graham Buchanan said it was a serious matter given his three previous breaches and sentenced him to 15 months behind bars.
The sentence was backdated to July when he was first remanded in custody.