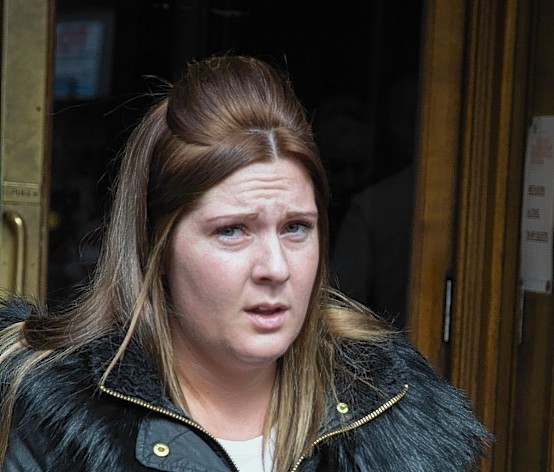 A woman who falsely accused a married couple of rape after her boyfriend found out about a late-night threesome has been jailed.
Hannah McWhirter planned a midnight meeting with Dionne and Shaun Clark at a hotel in Aberdeen.
The 21-year-old, of Drywells, Banff, even exchanged texts with the pair following their sexual encounter telling them how much she enjoyed herself.
But after her boyfriend found out about the tryst, she quickly changed her story – and went to the police, claiming she had been raped.
Police detained Mr and Mrs Clark, and they were subjected to hours of questioning.
But officers were later able to unravel McWhirter's lies through a series of mobile phone records which contradicted her claims of the sexual assault.
When she first appeared in court in May she admitted wasting police time by lying about the sex attack.
But a month later, when she returned to court to be sentenced, the former Turriff Academy pupil claimed she was actually innocent and said she had felt forced to enter the guilty plea by her solicitor.
She told social workers she had been advised she would get a reduced sentence if she owned up before a trial.
And she said her lawyer made her feel pressured into pleading to the charge as he told her no jury would believe her side of the story.
The court also heard she was suffering from a rare language disorder which meant that she did not understand the crime she had pled to.
After employing a new solicitor, dozens of reports were called for to see if specialists could prove she was not capable understanding the charge against her.
It was hoped she would be able to withdraw her guilty plea and instead stand trial.
But yesterday Sheriff Graham Buchanan eventually sentenced her to a year behind bars after experts failed to prove she "unwittingly entered" her plea.
He told her the offence was particularly nasty, and said: "The first thing to be said is cases involving false allegations of rape are particularly serious because when people make false allegations of rape it becomes more difficult for prosecutors to prove genuine cases of rape.
"Jurors then have it in their minds that it is not unknown for people to make false allegations of rape, and that is highly undesirable.
"The court takes cases of this kind very seriously. In this case, your false allegations led to the detention and questioning of Mr and Mrs Clark and that must have been a horrendous experience for them.
"At the end of the day I take the view that this is a very serious matter that can only be dealt with by way of a custodial sentence."
Aberdeen Sheriff Court previously heard McWhirter had become close friends with Mrs Clark, 29, after starting work in the same shop in January 2013.
Over time Mrs Clark introduced the young woman to her 35-year-old husband Shaun and they all grew very close – eventually discussing the possibility of a threesome.
The court heard that on July 13, 2013, the three met up and engaged in a night of passion in a Travelodge in Aberdeen.
At the time McWhirter's boyfriend was on a night out, oblivious to what was going on.
But around a month later Mr Clark informed McWhirter's boyfriend of the illicit meeting.
She initially denied the incident, however when the police became involved she claimed she had been raped after going to the Clarks' hotel room to use the bathroom.
The Clarks were later interviewed under caution by police.
However, McWhirter's friends did not back up her story about being on a night out.
And after a mobile phone analysis in November 2013, McWhirter admitted she had been a willing participant.