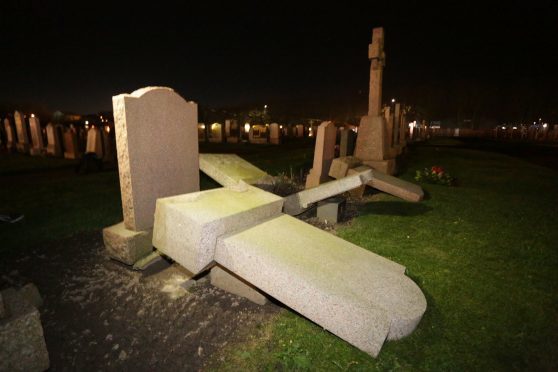 Police have branded vandals who toppled five headstones at a north-east graveyard "despicable".
The memorials at Balmoor Cemetery were knocked off their bases – and the bill for putting them back in place is likely to run to several thousand pounds.
Sergeant Graeme Cupples said: "We are treating this as a deliberate and despicable act of vandalism.
"Some of the gravestones are very old but regardless of that they mark the resting places of family members and loved ones."
Sgt Cupples said his team was appealing to anyone in the area who may have witnessed anything unusual at the cemetery over the weekend to get in touch.
The incident has caused outrage in the local community, with residents aghast that grieving families have been targeted.
John Brownlee, chairman of Peterhead Community Council, said: "I'm grossly disappointed by the damage that's been done. We don't yet know the story behind it, but it's disgusting that anybody would do that sort of thing.
"It does happen from time to time across the country, but it is disgusting, totally unnecessary and absolutely ridiculous."
Sandy Allan, chairman of the Buchan Community Safety Group, added: "There's enough damage to these sorts of things without people doing it deliberately. I'm very disappointed to hear about it.
"Hopefully it's a one-off and the police find who is responsible.
"But it's the effect on the families that's important."
Mr Allan, who works closely with local police officers in his capacity as safety group chairman, said the incident was very unusual for the town.
"There has been some trouble around Drummers Corner in the town centre, but that's been addressed by police and Theatre Modo with diversionary activities for young people," he said.
"There's been nothing reported about deliberate vandalism like that which has now happened at Balmoor."