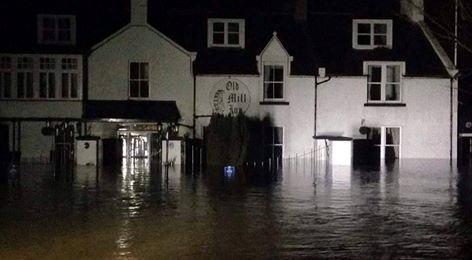 A historic north-east pub which recently reopened has been forced to shut its doors once again due to horrendous flooding.
Water began to rise at the Old Mill Inn at Maryculter at lunch time on Wednesday – and by night the water level had risen to above the reception on the ground floor.
The Deeside Holiday Park, located behind the pub, was also completely washed out.
Locals have described how quickly the flooding took over and how there was nothing anyone could do.
Barry Walker from Maryculter, 77, said: "I was in the pub at 1.30pm on Wednesday and I saw the water just coming up, and I thought what am I meant to do?
"I left and tried to come back later to find out what had happened, but by that time the bridge had been closed."
Another who witnessed the damage was David Wass , also from Maryculter.
The 52-year-old oil worker said: "The pub is my local and I go there more often than not.
"I drove over the bridge at 5pm and the place was totally flooded, the water was half way up the front door.
"I then went home to get my daughter and five minutes later the bridge had closed, it all happened so quickly."
The pub, which has stood by the South Deeside Road at Kirkton of Maryculter for around 200 years, closed in 2014.
There were plans to turn it into a "workers' village" for Aberdeen bypass contractors but these were scrapped in July last year and it reopened two months later.
It is understood the pub will be closed again for several months.