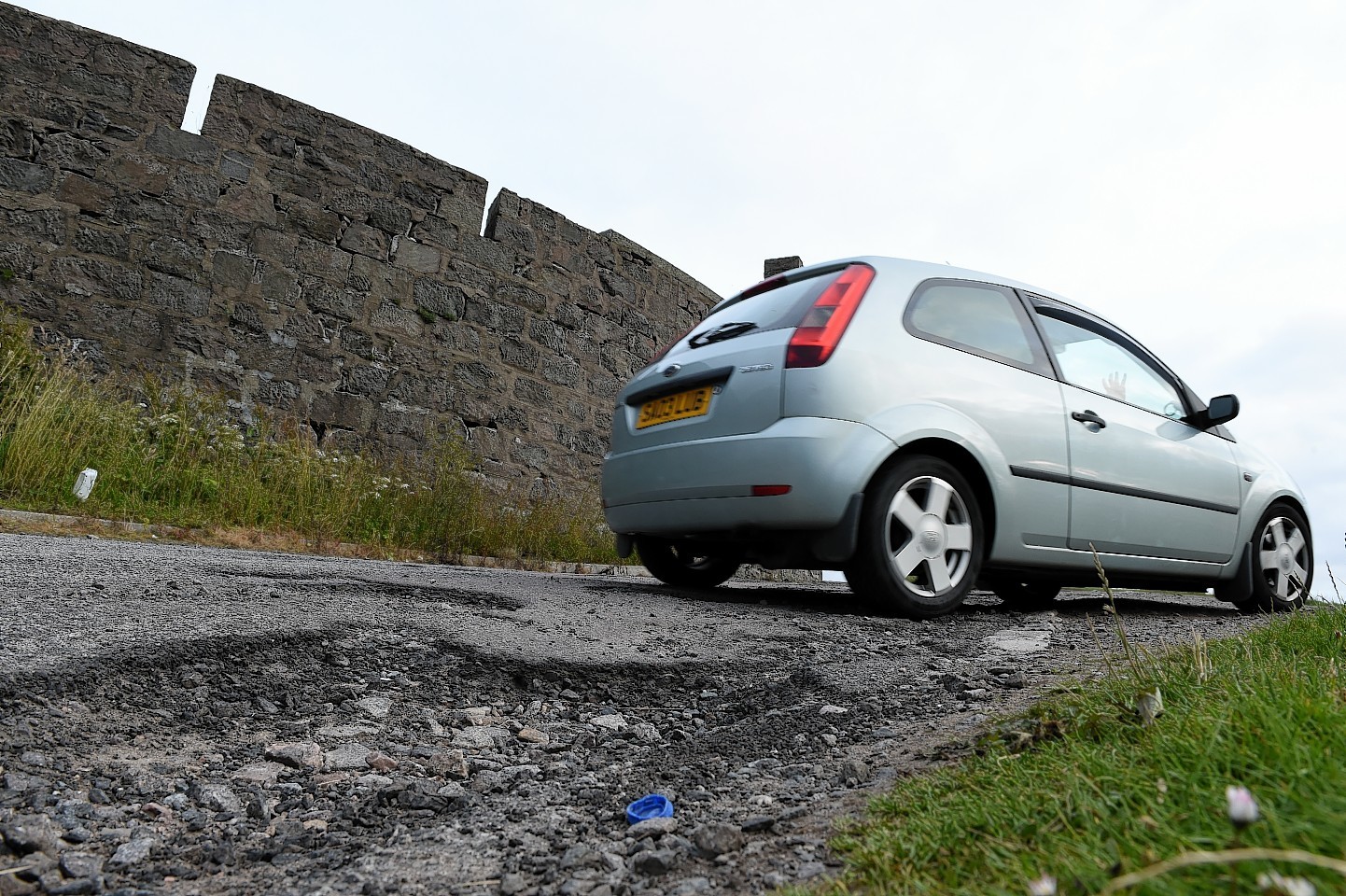 North-east council chiefs believe they are winning the war on potholes – and have vowed to keep investing in the region's roads.
New figures have revealed compensation payouts made by the local authority in Aberdeen have plunged to a five-year low.
And in neighbouring Aberdeenshire, council workers are filling thousands more potholes every year.
The statistics were obtained by the Press and Journal using freedom of information legislation.
They show that the number of claims for pothole-related damage lodged with Aberdeen City Council fell from 121 in 2013-14 to 70 in 2014-15.
Compensation settlements were also at a five-year low, with £38,490 paid out in 2010-11, £3,590 in 2011-12, £1,855 in 2012-13, £2,179 in 2013-14 and just £725 last year.
The council – which does not have responsibility for maintaining truck roads such as the A90 and A96 – said claims were made for damage to cars and "any resulting injury suffered as a result of any vehicle, motorcycle or bicycle hitting a pothole".
It said the reduction in payouts was "as a result of investment from the roads service in a small works scheme and also as a reflection of how injury claims can impact on the claims experience".
There has also been a fall in the number of complaints about road surfaces, from 1,025 in 2014 to 949 in 2015.
Neil Cooney, convener of the council's communities, housing and infrastructure committee, said the trend was in the right direction.
And with key decisions on the local authority's spending looming, he added: "If I get the same roads budget that I have asked for, and I am quite confident I will, then that trend will continue."
"Obviously if people are injured that inflates the claims considerably and there have been no injuries in the last couple of years.
"We have been more proactive and there is more money that has gone into roads maintenance."
Mr Cooney said more and more cash was going on estate roads and residential areas, which had helped reduce the number of claims.
Meanwhile, Aberdeenshire Council filled 36,315 potholes last year, compared with 25,305 in 2012.
In the last two years, 131 claims were made against the council for damage to vehicles and since the beginning of 2012 the local authority has paid out £27,866.
Aberdeenshire Council's head of roads and landscape services, Philip McKay, urged people to report potholes to the local authority.
He said: "Aberdeenshire Council consistently ranks within the top five of all 32 local authorities in the annual Road Maintenance Condition Survey.
"However, it is fact that potholes can appear any time on any standard of road.
"All of Aberdeenshire's roads are inspected on a regular basis in line with national standards, but potholes do appear between inspections."