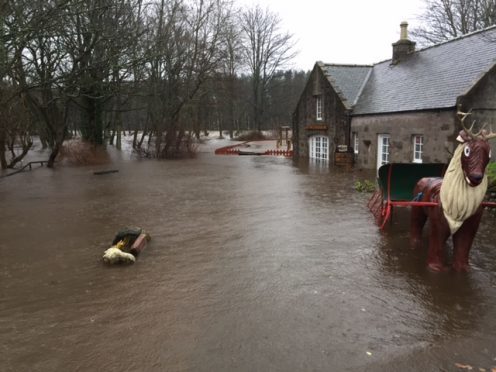 Aberdeenshire councillors are urging people affected by Storm Frank at the turn of the year to make the most of the financial support being given by the Scottish Government.
So far, only half of the £2million being provided by the Scottish Government Relief Fund has been distributed.
The local authority is now encouraging business owners to take advantage of the grants which can be used to replace damaged stock, equipment or property.
Business owners are eligible to apply for £1,500 and a separate £3,000 grant, so they could claim up to £4,500 to help with flood recovery costs.
Chair of Aberdeenshire Council's infrastructure services committee, Councillor David Aitchison, said: "I urge businesses of all sizes to take advantage of the financial support available, following the devastating floods that affected Aberdeenshire.
"A lot of work has taken place to work with communities as part of the council's Flood Recovery Plan and it will continue to do all it can to provide assistance."
Aberdeenshire Council's head of finance, Alan Wood, added: "We are aiming to process all claims as quickly as possible and are taking a holistic approach.
"So the team is looking at council tax and business rates rebates in addition to grant payments, to ensure people affected by flooding get the maximum benefits.
"We have received many applications for individual grants, but more businesses, from retailers to farm owners, can apply for both and take advantage of the support.
"I would encourage people to visit the website and fill in a form as soon as possible."
So far 20 businesses have received the £3,000 grant and butcher Barry Florence of H M Sheridan Ltd, Bridge Street, Ballater was among one of the first individuals to receive a grant.
His shop has been in Ballater for ten years and is currently closed, while he works to recover from the recent flooding.
Mr Florence, 50, said: "This funding will assist us as we move forward from the recent flooding.
"The business was totally devastated, so it really is like starting all over again. I'm going to use it for advertising and promotion and am working hard to repair the damage."
Only those households and businesses which were directly affected by the flooding in December 2015 and early January 2016 are eligible to apply for the grant.
An online application form is available at:
https://online.aberdeenshire.gov.uk/flooding-grant-scheme/