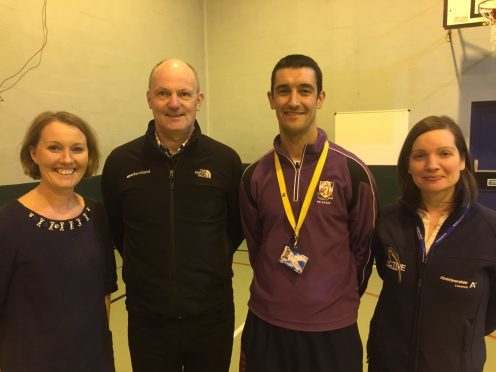 Teachers and pupils celebrated receiving a national award yesterday for their commitment to school sport.
Banchory Academy was awarded the Gold School Sport Award by Sportscotland after successfully completing a range of criteria to demonstrate their continuous improvement in the quality and quantity of PE and sporting opportunities.
Banchory Academy is the third secondary school in Aberdeenshire to achieve gold status alongside Ellon and Meldrum Academy which achieved their awards in September 2015.
Sportscotland's regional development manager, Alan Clark, presented Banchory Academy with the accolade during an award ceremony which took place at the school.
Head teacher, Judith Wight, said: "I think this award is a true reflection of all the work that goes on at Banchory.
"We have fantastic staff who support an lot of activities, the youngsters are great, they're willing to take part and participate and the sheer number that are taking part right now says a lot about the school."
Physical education teacher, Barry Petrie, added: "I know how much time and effort has been put into achieving this award and, for a major organisation such as Sportscotland to recognise our efforts, is fantastic. I'm very proud of achieving this accolade.
"We have a huge number of talented children, so it's great recognition for them and the school."