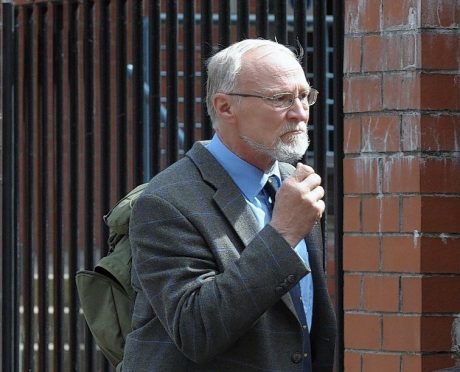 A former Aberdeen teacher branded a "dangerous predator" has been jailed for more than six years for sexually abusing pupils.
William Bain targeted the five boys at a private school in Dunbartonshire, where he taught in the late 1980s and 1990s.
He moved to the school after eight years at Robert Gordon's College in Aberdeen.
Last night, the school stressed there were no allegations about his time in the north-east – while the detective who led the investigation into his campaign of abuse urged anyone with "further information" about the 62-year-old to come forward.
Bain – who went on to work at top boarding school Glenalmond College – was caught after one of his victims discovered he was still teaching and called the police.
He admitted using lewd and libidinous practices towards five pupils at a fee-paying school in Dunbartonshire between 1989 and 1995 and appeared at the High Court in Glasgow yesterday for sentence.
The court heard the attacks happened either in an empty classroom, a photography darkroom or at Bain's private flat at the school.
The first boy was 11 when the abuse started, while his second victim was 12 when Bain began molesting him several times a week.
Around the same time, Bain repeatedly preyed on a third boy, who was also 11 when he was first targeted.
The fourth pupil was the same age as he was abused a total of 50 times.
Advocate depute Ross McFarlane, prosecuting, said the final victim – aged 12 – confided in Bain about being bullied, but rather than helping him, the teacher touched him inappropriately.
Bain, of Crieff, left the school in 2000, and moved to exclusive Glenalmond College.
He was suspended immediately last year when his first pupil realised he was still teaching and contacted the police.
Last night, Detective Inspector Grant MacLeod welcomed his six-and-a-half year jail term and said: "Bain is a dangerous predator and it is through the courage of his victims that he has been brought to account.
"We hope this sentence will bring some closure to them and allow them to move forward with their lives.
"As the case of Bain demonstrates, we will work tirelessly to ensure that those who perpetrate these crimes will not go undetected, irrespective of the time that has passed.
"It is never too late to report abuse and we would ask anyone with further information about William Bain or other abusers to contact us."
Bain worked in the north-east at Robert Gordon's College from 1979 to 1987.
It is understood he was also a housemaster at the college's Sillerton House, in Albyn Terrace, where boys aged eight to 18 boarded.
Last night, head of college Simon Mills sent parents an e-mail to reassure them there had never been any allegations of misconduct during his time at the school.
He said: "Recently Mr Bain has been charged with an allegation of lewd and libidinous conduct, for which he has pled guilty.
"Although there is no allegation of misconduct during his time at RGC, the college has been assisting Police Scotland with investigations into Mr Bain."
A spokeswoman for the school added: "Police Scotland made us aware of the allegations in relation to a former member of staff whilst working at another school. The allegations are not in connection with the individual's employment at Robert Gordon's College."
A spokesman for NSPCC Scotland said: "Bain's twisted abuse of his position of trust as a teacher will have had devastating effects on his young victims.
"We welcome the jail term imposed and hope it sends out a strong message that these types of offences will not be tolerated.
"To speak out about sexual abuse takes a huge amount of courage, and it is vital that everyone who has been abused feels confident enough to tell someone if they are a victim, no matter how long ago the abuse took place."