These new pictures show the progress on the £107million Marischal Square complex which council chiefs have pledged will "inject new life" into the struggling city centre.
With less than a year to completion, the Press and Journal was given an exclusive first look at its new home on the fifth floor of the towering office and retail complex.
All Bar One and the Marriott Hotel have signed up as tenants, while Aberdeen Journals Ltd – home of the P&J and Evening Express – remains close to striking a deal.
And developer Muse bosses hinted yesterday there may be more "good news" coming soon.
Entering through Flourmill Lane, the scale of the enormous three building office, retail and public space development becomes clear.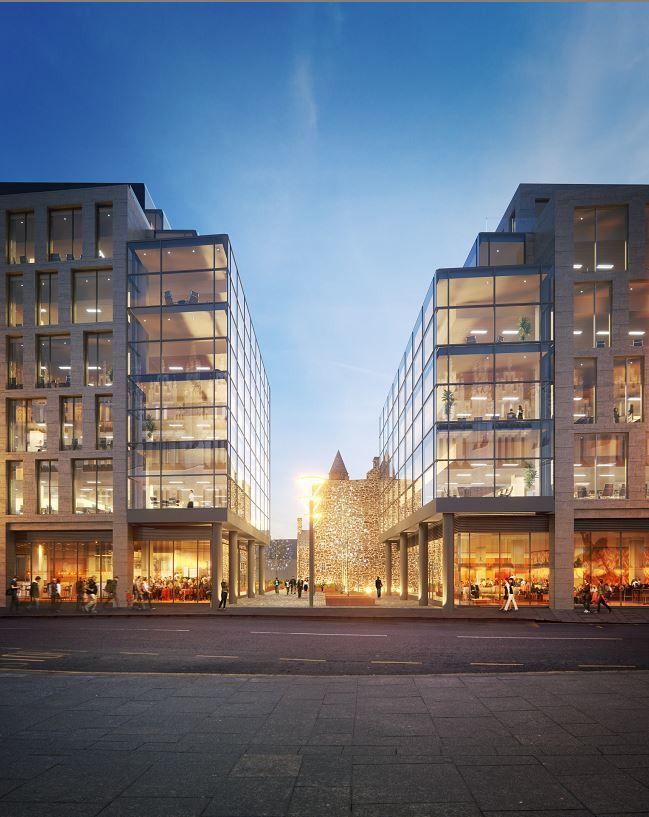 Visitors first come across the huge canteen, where the 150 workers eat in shifts.
Heading up the stairs to the fifth floor, the panoramic city views are revealed, with the world-famous Marischal College being looking close enough to almost touch.
Looking down, the public space area between the three buildings can be seen, where next year hundreds of office workers will be able to congregate and enjoy a beer or coffee near Provost Skene's house, which has undergone a £500,000 refurbishment.
Marischal Square will include four types of granite, imported from China, to remain in keeping with Aberdeen's traditional image.
Steve Turner, regional director for developer Muse, said: "We have said from the outset that we are not trying to mimic Marischal College with this project, we wanted it to be different but keeping in with Aberdeen's heritage so granite was the obvious choice."
The concrete workers will soon be leaving the site to make way for more local tradesmen to help complete the more intricate details.
Project manager John Toland said: "It has been a very challenging project, as city centre projects tend to be, with a lot of challenges around having materials delivered.
"The council have been very good providing us a lay-by area, we have to try and keep our neighbours happy.
"After the concrete guys come in, there will be glazers and roofers.
"We then have to make the building wing and watertight which will allow us to begin doing things like installing the lift shafts."
With ambitious plans for closing Broad Street to all traffic except busses now out to statutory consultation, the woman leading the 25-year city centre masterplan said Marischal Square was "integral".
Deputy council leader Marie Boulton said: "We are trying to reverse the trend of people leaving the city centre.
"We are looking for gaps in the market, this isn't going to be Union Square, we are hoping is a more cultural space where people can enjoy sitting outside and enjoying the restaurants and bars."
Finance convener Willie Young said: "I think people will be pleasantly surprised when they see these pictures and see just how much public space there is."