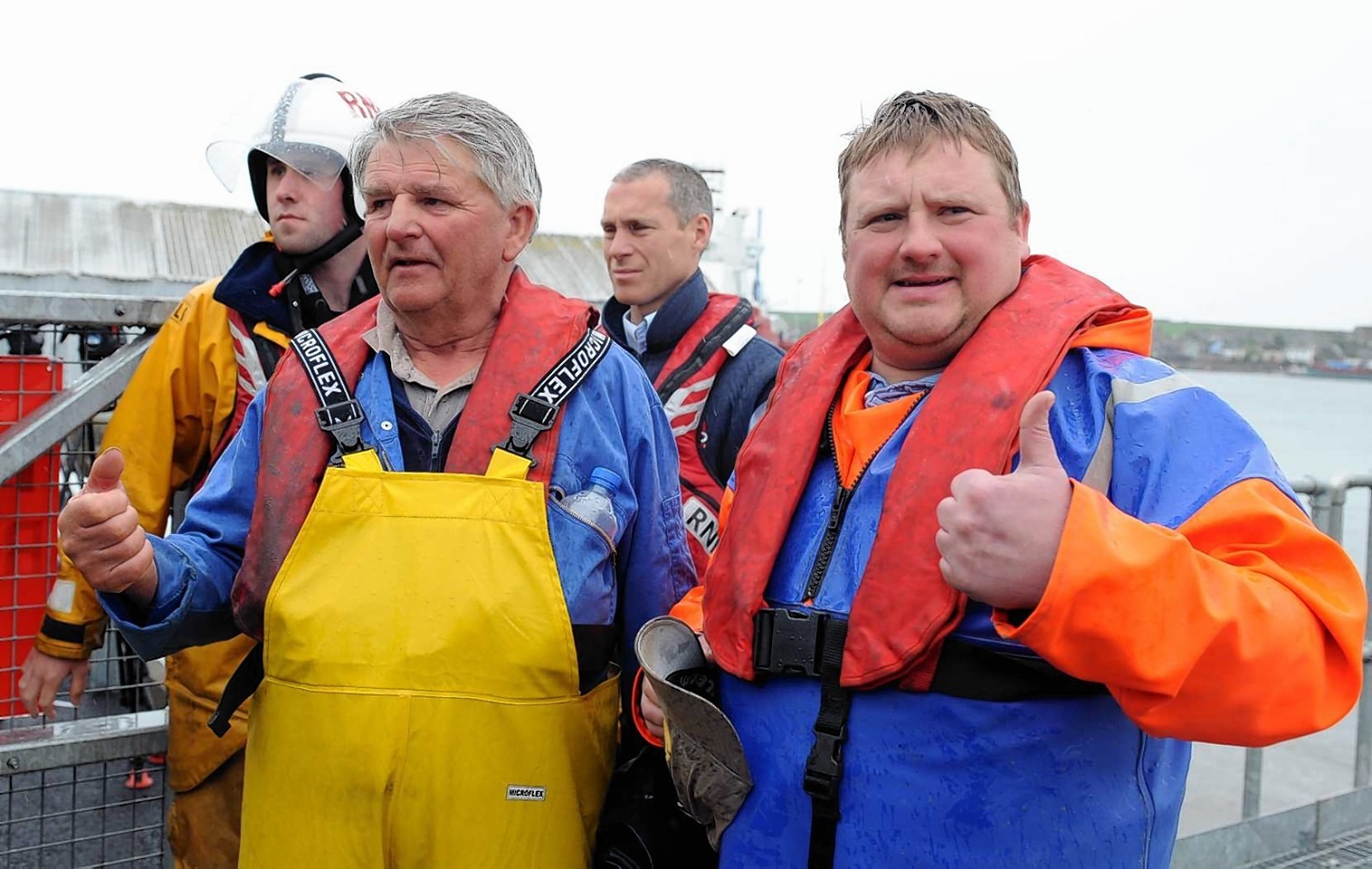 Two missing fishermen who were feared dead have described their relief at being back on dry land – but say their ordeal will not stop them going fishing again.
Jim Reid, 75, and his grandson David Irvine, 35, sparked a major search operation involving the Coastguard, lifeboats, helicopters, a plane and local vessels when they failed to return to Gourdon harbour in their boat Water Rail at 9.30am on Tuesday.
The search was called off on Wednesday night but the following morning the Buckie-registered scallop trawler Sylvia Bowers spotted the pair around 46 miles off the coast of Montrose.
The Montrose lifeboat brought the men into the town's harbour at 2.30pm yesterday.
Mr Reid and Mr Irvine said they never gave up hope of being found despite only having a litre and a half of water, a flask of tea and two biscuits to survive on.
Mr Irvine, a supervisor at the Scotmid store in Inverbervie, said: "We set the compass and it just was in the wrong direction.
"Because of the fog we were completely lost.
"We did not have a phone with us, normally I take my phone with me but I forgot it.
"We never gave up hope."
Mr Reid, who has been fishing for 62 years, added: "I never gave up, I had to look after somebody.
"We had faith and we kept warm. We ran the boat's engine at night to keep warm.
"We had two rockets and we fired them the first night."
The alarm was first raised around midday on Tuesday and an RAF Sea King helicopter, RNLI lifeboats from Montrose, Aberdeen and Stonehaven were launched to search the coastline.
On Wednesday, the search resumed but hopes of finding the men alive diminished when no trace of them was found.
Mr Reid, who worked for Oil Technics in Gourdon before retiring, said he worried for the safety of those searching for him while he was lost at sea.
"I want to thank the crews very much for all they have done," he said.
"I realised there would be a search and that worried me more, the safety of others coming to look for us.
"We saw big ships but they were just too far away.
"When I saw the boat that picked us up I just about walked to it."
Mr Irvine, a father-of-one, added that it was "the best thing in the world" when he realised that they would be rescued.
The pair say their ordeal will not keep them from fishing again but they will have to buy a new boat as the Water Rail sank while being towed back to shore yesterday.
But the men were not glad to see the 16ft creel boat go and Mr Irvine said: "She did well to keep us going."
Mr Reid said: "I will have to see what my wife says but, yes, I will go out again."
He added that he would not be having fish for his dinner.