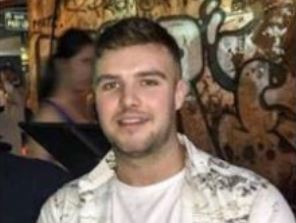 An oil worker dumped in the middle of nowhere by a taxi driver has vowed not to cut his dream holiday short.
Connor Leslie's friends and family launched a frantic search after he went missing on a night-out in Vietnam's capital city, Hanoi.
The 23-year-old, from Newtonhill, was enjoying the first night of his three-week trip with four friends when the drama unfolded.
The group had accepted a lift home from an "off-duty" taxi driver, but when they arrived back at their apartment at 2.30am local time on Saturday, they discovered he was trying to charge them too much and an argument broke out.
Seemingly unhappy about the amount of cash handed over, the driver sped off with Connor still inside the cab – leaving his friends at the kerbside, terrified for his safety.
They immediately alerted the local police, while Connor's loved ones back home waited desperately for news, eventually mounting an online appeal for information.
His brother, Ross, said: "(Connor's friend) Matt rang at around 10pm on Friday to tell me what had happened, and as time went on I got more worried.
"We just hoped that he would turn up. But when there was no word by 6am, that's when I told my mum.
"She broke down. And as time went on during Saturday, we just started to panic."
Ross and his father were in the process of booking flights to head out to Vietnam to join the search when Connor arrived back at the apartment, revealing the taxi driver had stolen his mobile phone and dumped him about 20 miles away.
It is understood the taxi driver – who was caught on CCTV – is now being questioned by police.
Speaking on behalf of his brother last night, Ross said it had taken him about 20 hours to get back to Watermark West Lake apartments at Tay Ho, Hanoi.
He said: "He took his phone off him, but didn't take any of his money.
"Connor can't speak the language, so he just started walking back towards the city. He knew that he was staying next to the big lake, so when he eventually saw that he just walked around the edge of it – thinking he would eventually end up back at the apartment – he has got quite a good internal compass.
"Connor said his feet are covered in blisters from all the walking – he was walking the whole night and day, nearly 20 hours – he was totally exhausted.
"His friends had been up the whole night too and had been putting lots of feelers out on social media. They had phoned the British embassy in Hanoi and had found a translator to help with giving statements to the police."
Connor – a maintenance worker for MI Swaco – had been planning the trip for months, with Vietnam the first stop, before going to Cambodia and Thailand then Australia. The group made up the dream itinerary to catch up with an old friend who now lives Down Under – seeing south-east Asia as the ideal halfway point.
And last night his brother revealed that despite the ordeal, the maintenance worker is determined to enjoy the rest of the trip, despite his mother's pleas to come home early.
"He said he doesn't want to ruin the holiday for everyone else," Ross said. "They were planning to have a few days in Vietnam, and then move onto Cambodia, Thailand and end the trip in Australia.
"Mum would really like him to come home now. But he doesn't want to ruin it for everyone else. I think she'd be happy if he skipped the trip to Cambodia and Thailand and just went straight to Australia now.
"He's very lucky – it could have been so much worse."