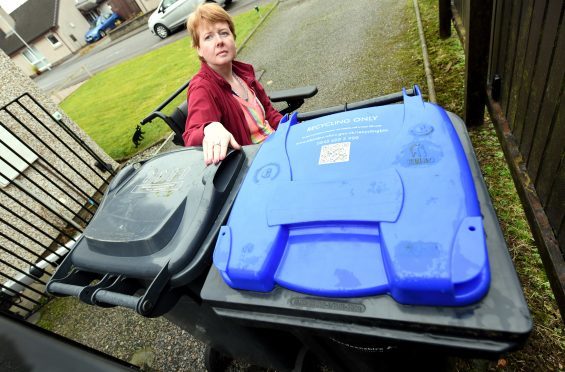 A wheelchair-bound MS sufferer has called for shorter bins after "inconsiderate" waste workers left hers out of reach.
Luisa Sutherland, from Westhill, claims she has been forced to keep smelly rubbish in her house for days due to the mistake, and says the new recycling wheelie bins are far harder to use than the black boxes and bags previously used by the council.
Since her husband died, the 42-year-old lives alone and finds it difficult to reach the tops of the lidded bins.
She said: "I found the old system much easier to use. I do have an assisted collection now, so I don't have to take the bins to the road-side.
"But I had asked the council for a shorter bin and was given one that is narrower rather than shorter – it's stupid.
"There are so many things that you just don't need to think about until you are in this situation."
The retired Aberdeen University secretary has a progressive form of MS which is slowly limiting her mobility.
Last week Mrs Sutherland's bins were brought back up to her garden gate, but her recycling bin was left facing the wrong way round meaning she could not move it herself to use it.
"All I'm asking for is a bit of consideration.
"I had to wait until my cleaner came round, but she only visits once a week, so my recycling was piling up," she said.
"I'd had a can of tuna for lunch which really started to smell. I could have put it in the general waste bin, but I like to recycle.
"I know someone who lives in Wales, who is also in a wheelchair, who has sent me photos of his shorter bin. I don't see why we can't get something like that up here? I'd be interested to hear how other people cope with their bins if they are in my situation."
An Aberdeenshire Council spokesman last night said: "We have spoken to the resident and understand her concerns. We will speak to our collection teams to ensure that, going forward, the bins are put back the right way around. We can also provide a sticker to be put on each bin to remind the crew to put the bins back correctly.
"We will also arrange for a community waste officer to visit the lady to reassess the situation and work with her to try finding a suitable solution."