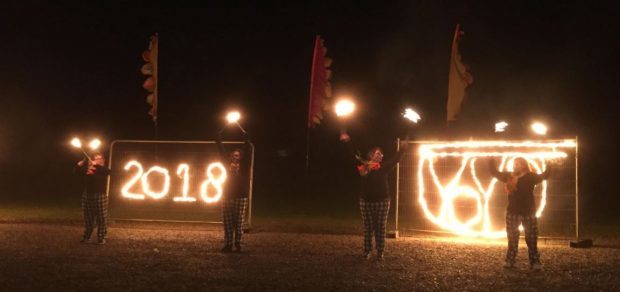 A year-long initiative aimed at celebrating the youth of Aberdeenshire was launched last night amidst a blaze of north-east talent.
With the historic backdrop of Haddo House, the Year of Young People (YOYP) 2018 fired into action with Peterhead-based Modo – the circus with a purpose – who put on fire displays in the grounds of the National Trust property.
Aberdeenshire Council along with its Children's Services Planning partners outlined a 12-month programme of events, activities and ideas to mark the national project.
Provost Bill Howatson said: "The Year of the Young People 2018 is set to be really exciting. I very much hope that young people from across Aberdeenshire find the next 12 months to be really inspiring and that they show everyone what is great about young people in Aberdeenshire."
The musical talents of Kemnay band Black Tiles, Ruairidh Williamson and Ellie Clark entertained the assembled crowd in the Haddo library.
Last night the National Trust of Scotland's regional manager David Wright announced their backing of the project and said anyone with a Young Scot card could gain entry to any NTS property for just £1 throughout 2018.
The programme of events will be largely driven by ideas developed by the young people in Aberdeenshire and will focus on their six main topics of culture; education; enterprise; health and participation.
Planned so far is a youth festival 'The Big Mash up' which will be held at Haddo House in September and an LGBT event is being held in Alford at the end of this month.
Chief executive for the authority Jim Savege welcomed the "wonderful" range of talent at last night's event and added: "Young people are at the heart of everything we do every single day; from economy to transport; young people are always on our minds. They are part of the fabric of what we do."
The Aberdeenshire YOYP 2018 will be run in partnership with the council, Police Scotland, NHS Grampian and Aberdeenshire Action Voluntary Third Sector.
Education and Children's Services Committee chairwoman Gillian Owen said: "There are some fantastic events coming up in Aberdeenshire and across Scotland – creating opportunities for them to shine locally and nationally."
The official calendar and other information about YOYP 2018 will be on Aberdeenshire's GIRFEC (Getting It Right For Every Child) website: www.girfec-aberdeenshire.org.uk