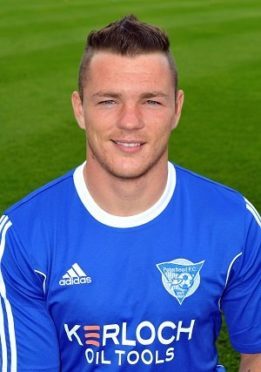 A former north-east footballer has spoken of his anguish at being taunted over his ongoing mental health issues.
David Cox was a midfielder for Peterhead, until moving to Forfar last year and now to his current club Cowdenbeath.
The 28-year-old was interviewed by the BBC and has described the abuse he has received following his public admissions of self-harming and suicide attempts.
Mr Cox said he had been taunted by footballs fans and colleagues alike and said one fan even shouted out to him 'go and hang yourself and do it right this time'.
He said attempts to deal with the stigma surrounding mental health had to be matched with efforts to challenge other social issues, such as racism and bigotry.
Mr Cox added: "It's just as bad as being racist for me. If you were racist on the pitch, if a fan was racist at football games – you'd get done for it.
"People don't see mental health as an illness, you can't physically see it – it doesn't mean it's not there."
Mr Cox said he has been called a "psycho" and has been mocked about "slitting his wrists".
Now playing with Scottish League Two side Cowdenbeath, Mr Cox said: " Some people might think it's the best job in the world and 'what's he got to feel depressed about' but it's not what everybody think it is – I'm not making loads of money.
"Fans come in and they say what they want, then go home and forget about it – I'm the one that it affects – It gets me in a bad place again."
The former Forfar Athletic striker also said that on the pitch, opponents had used his depression to undermine his efforts during games.
He said: "Maybe after a bad tackle they'll say 'watch your wrists wee man, oh, I better not wind you up 'cos you're a psycho'."
After his last suicide attempt, Mr Cox said: "My wife was pulled to one side in the hospital and was told it was touch and go if I would make it or not.
"It was the lowest I have ever felt in my life – I would never wish it on anybody."
A Scottish Football Association spokesman said the health and mental wellbeing of professional footballers in Scotland was of paramount importance.
He said: "Any on-field instances of abuse related to mental health that are witnessed by a match official would result in the offending player's dismissal.
"Equally, any incidents not witnessed by the officials, but which are subsequently brought to the attention of the referee, would be similarly reported to the compliance officer for his consideration. We strongly encourage all players to report any such conduct in order that this investigative process can take place."