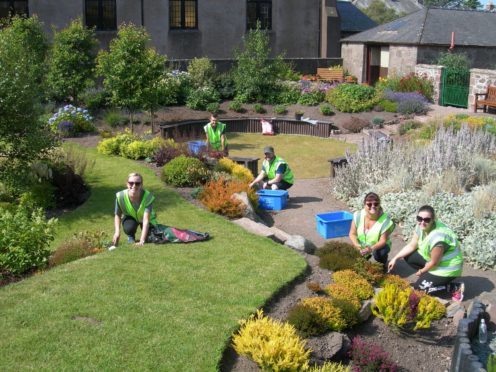 Community groups from across the north-east were awarded with Beautiful Scotland awards this week – and demonstrated they are blooming marvellous.
Now in its 52nd year, the awards are overseen by the Royal Horticultural Society's Keep Scotland Beautiful team, who found plenty to admire in the region.
Inverurie's Environmental Improvement Group stood out for the judges and won a gold medal certificate as well as the Community Horticulture Award.
The project involved the whole community maintaining the "continuous ribbons of colour" throughout the town – including engagement with members of the Pitscurry Project, an organisation which provides training and day services for adults with learning disabilities.
Elsewhere, first time entrant Brighter Bervie was presented with a silver medal and received the RHS Award for Overcoming Diversity, recognising the group's initiatives to tackle invasive species such as Japanese knotweed.
By using Lottery Funding, members of the Bervie community are now being trained by Scottish National Heritage to undertake removal work.
In Aberdeen, the Powis residents' group was first in the Residential Community category and commended for transforming the local environment "one garden at a time" and building links with other local gardening groups.
Aberdeen Inspired received the David Welch Memorial Award for its Urban Bee Project – which empowered members from the local Alcohol and Drugs Action Group to maintain beehives in the city centre.
Cove in Bloom earned the Garden for Life Biodiversity Award, recognising its commitment to developing a one-mile woodland walk and engaging the community in the project which will eventually form part of the coastal path network.
Brighter Bucksburn was recognised with a Silver Gilt in the Urban Community category and in Moray, Forres in Bloom received a gold medal and the Community Involvement Award.
Operations director of Keep Scotland Beautiful, Pete Leonard said: "Beautiful Scotland continues to provide the opportunity to celebrate the achievements of Scotland's volunteers, local authority staff and businesses.
"It also recognises the tireless efforts of communities across the country who work to clean up, green up and beautify Scotland's villages, towns and cities.
"I would like to commend the groups from Aberdeen and Aberdeenshire for their fantastic work. It is thanks to their efforts that local spaces and places they treasure are maintained to such high standards."
Beautiful Scotland is managed by Keep Scotland Beautiful, a member of the RHS Bloom Federation. Entrants are judged by a team of expert volunteer judges on their year-round achievements.
Awards are presented to a range of local authorities and communities who have achieved the highest scores in their categories.