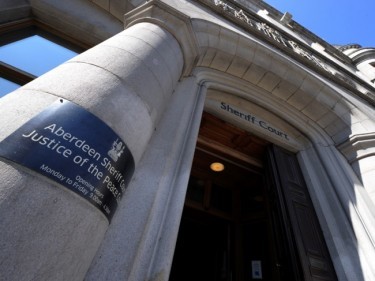 A man pummelled his former partner with a boxing glove, poured boiling water over her arm and choked her during two-days of violence.
They were among a harrowing list of abuse directed at the woman by 20-year-old Tyler Leisk and detailed at Aberdeen Sheriff Court.
He admitted, among numerous other violent actions, threatening to kill her, pulling her along the ground by her hair and pouring boiling water over her body, to her severe injury and permanent disfigurement.
Leisk and the woman, who cannot be named for legal reasons, had been in an off-on relationship for around a year at the time of the incident.
The court was told the "prolonged and sustained" attack had been prompted by his belief she was sleeping with another man.
It took place "in every room" of a city centre flat and lasted from 8pm on March 20 last year to 4pm on March 22.
Depute fiscal Gavin Letford read out an harrowing witness statement from the woman, which detailed the extent of her ordeal and her subsequent escape.
He read: "It is all a bit jumbled-up in my memory.
"On several occasions he choked me and sometimes he would choke me while punching me with the other hand.
"On some occasions I could breath, on others I couldn't.
"At one point he threatened to pour hot water over me and then I heard him boil the kettle.
"He poured the boiling water over my left arm."
The statement, which the witness had given to police, went onto say how "clumps of hair" fell out as she was dragged from room-to-room and that at one point Leisk had pulled on a boxing glove.
"On several occasions I thought I was going to die" the woman added.
Eventually, on March 22, Leisk left the flat and his victim found a spare key which she used to make her escape.
After briefly hiding in a nearby garden, she ran towards Aberdeen Royal Infirmary, taking a complicated route in case her assailant was following.
Paramedics found her approaching the hospital and rushed her to the emergency room.
The court heard the woman had such extensive injuries they could not be noted in one go.
They included loss of hair, black eyes, swellings, bruising to the legs, arms and genitals, scratches, a scald mark on her arm and permanent scarring to her lip.
During this time, Leisk had gone to the victim's mother's house to find out her whereabouts and then followed her to the hospital.
The court heard he soon fled, however, when he discovered police officers were at her bedside.
They subsequently went to his flat on March 23 and noted "signs of a disturbance" together with "clumps of hair and blood".
On March 25, the 20-year-old was traced elsewhere in the city and taken into custody.
Sentencing on Leisk, whose address was given as HMYOI Polmont, was deferred until next month in order to obtain criminal justice reports.