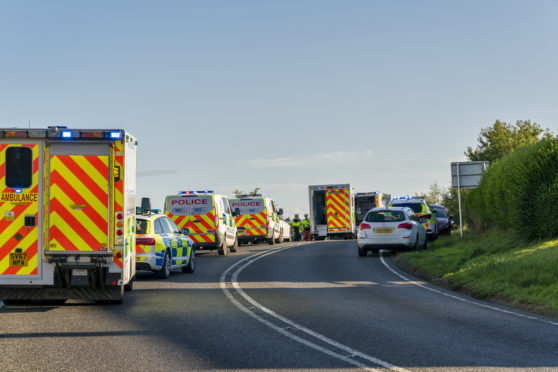 A motorcyclist has told a court how a scene of "utter chaos" unfolded on a north-east road amid an alleged group attack.
Nicky Syratt and friends were riding out of Cullen on the A98 Fochabers to Banff Road when it is claimed they were assaulted by a group of other men on September 8, 2018.
Mr Syratt yesterday told the High Court in Edinburgh that he had to suddenly stop his motorbike after seeing debris on the road.
He said he was then attacked from behind and struck with weapons until he passed out.
The 34-year-old said: "They struck my legs with hammers and iron bars. They were trying to break my knees."
Mr Syratt was giving evidence on the second day of proceedings against four men accused of assaulting him and placing his life in danger.
The accused are Ian Ewing, 44, of Stonehaven, Patrick Noble, 52, of Aberdeen, Kyle Urquhart, 22, also of Aberdeen, and Ian Yeomans, 57, of Peterhead.
The four are also standing trial on further charges of attempted murder, assault to the endangering of lives, breach of the peace and possessing knives without "reasonable excuse or lawful authority".
The men deny all charges.
Giving his testimony by video link, Mr Syratt said: "They had weapons. I saw a hammer, a metal bar. They had heavy metal objects mostly."
Mr Syratt added: "The last thing I can remember was a young guy telling me he was going to kill me."
He also said that one of his attackers had a blade and cut off a piece of his leather waistcoat.
His friend Edward Forrest, 54, said he had to stop his Harley Davidson because he thought he had arrived at a crash.
The security guard said he could see Mr Sutherland lying on the ground.
Mr Forrest then told the court that he was "pulled off" his bike and assaulted.
He added: "I was trying to cover my head and body. I was knocked unconscious. I don't know happened. The next thing I remember was that I woke up and it was utter chaos."
Mr Forrest said that he was left with a fractured skull and a stab wound to his leg.
And it is claimed that motorcyclist Alistair Thompson suffered an attempt on his life when a car was driven at him in a murder bid.
The four accused are also charged with driving a car at Colin Sutherland, colliding with him "at speed", and causing him to fall from his bike and lose consciousness.
Prosecutors say they then repeatedly struck Mr Sutherland on the head and body with a claw hammer, a tyre iron, and a baseball bat before repeatedly kicking him on the body.
The trial, before judge Lady Scott, continues on Monday.