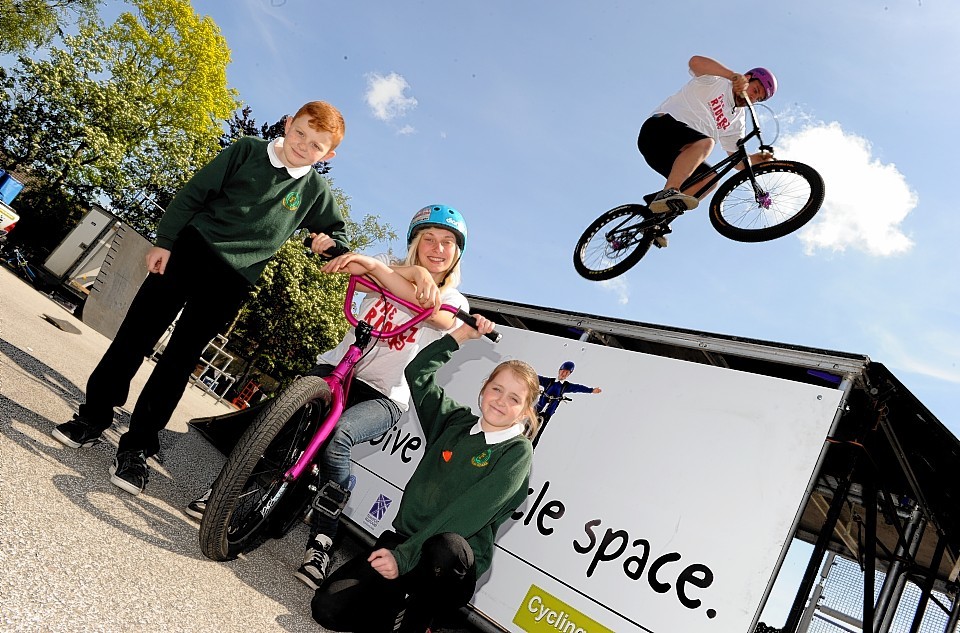 A group of stunt bikers thrilled a crowd of Aberdeen primary school pupils yesterday afternoon.
Pupils from five city schools gathered to watch the biker crew The Riderz perform an array of death-defying stunts at Fernielea Primary School.
The professional stunt bikers delighted the children with backflips, no-handed jumps, frame-grabs and bunny-hops on huge structures set up in the playground by the bike crew.
Children were asked to cheer on their favourite riders as the performed the feats – which included jumps over fellow riders.
Among the riders was UK's number one female BMX rider Kayley Ashworth, 24.
She said that the joy of performing with The Riderz was promoting cycling among schools where cycling is commonplace to others "who don't have any bikes".
Ms Ashworth added: "This is my third year with them, the kid's love it, it's quite rewarding."
She was joined by mountain biker Danny, and trials bikers Ali and Luke.
Children from Hazlewood, Kingsford, Holy Family and Hazlehead primary schools joined the kids of Fernielea for the afternoon's events, which was part of Cycling Scotland's Give Me Cycle Space campaign.
The campaign aims to quell parents' fears over their children cycling on roads to school by raising awareness of child cyclists.
Deputy head teacher at Fernielea, Lisa Walker, said: "It was organised through Active Scotland. We recognise the importance of safe and healthy travel to school.
"It's something we promote within the school, and we were nominated as a school to promote this event. And the children loved it."
She added that the children's parents were "very supportive" of the promotion of cycling to and from school, and that teachers were educating pupils about bike maintenance as well as "the fun aspects" of the activity.
The Riderz manager, Iain Withers, said: "We do the school street show to get kids excited about cycling and tell their parents.
"We're doing 39 schools, we're away to Shetland this weekend and doing Danestone in Aberdeen next Tuesday.
"Looking at the numbers before and after, more kids are into cycling, there's more kids on bike's after the shows and it helps support the message to car riders as well."