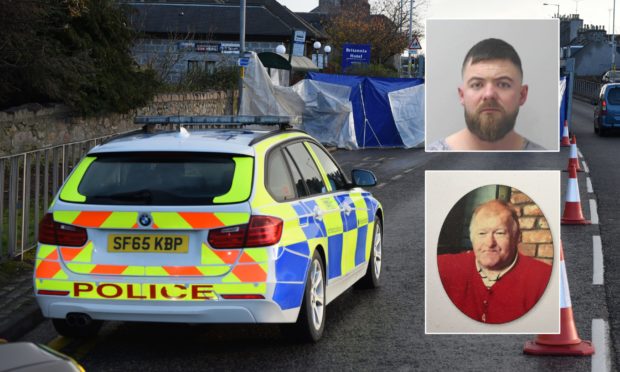 A speeding drink-driver who killed a pensioner waiting at an Aberdeen bus stop has had his driving ban almost halved.
Martin Henderson, 30, also left a teenager seriously injured when he ploughed into a shelter on Inverurie Road, Bucksburn, on November 9 last year.
Immediately after, he fled to the nearby Staging Post pub for a pint before driving back to Inverurie where he continued drinking before calling police to claim his car had been stolen.
Henderson was banned from the roads for 23 years and seven months, but appealed this at the High Court of Justiciary yesterday.
Judges considered that the "appropriate starting point" for the disqualification should have been 13 years.
This period was then adjusted in line with legislation for a total of 12 years and seven months, reducing the length of the driving ban by almost half.
Last night Henderson was branded "remorseless" and "callous" for launching the bid by Scottish Conservative justice spokesman Liam Kerr.
Prior to the incident on November 9 last year, Henderson had amassed six previous driving convictions including three bans for speeding, drink-driving and careless driving.
He had met a work colleague in Inverurie for drinks before travelling the 10 miles to Bucksburn.
Henderson was recorded behind the wheel of his BMW 320 at 97mph in a 40mph zone, and it was estimated he was travelling at about 67mph just before the crash, which took place in a 30mph area.
He lost control of the car as he tried to overtake another while approaching to a bend, striking a vehicle which crashed into the central reservation.
His car hit a pavement and then ploughed into a bus shelter where 70-year-old Allan Forbes and 18-year-old Chloe Donaldson had been waiting.
Mr Forbes, a retired bus driver who was on his way to meet his son in Aberdeen, suffered "catastrophic" injuries and died at the scene.
Miss Donaldson needed surgery to insert a metal plate and pins in a broken leg, and was also left with a broken nose, cut lip and chipped teeth.
Later, police officers arrived at the engineering supervisor's home on Threave Circle to find him asleep on the sofa.
After a breath test, Henderson was found to have 78 microgrammes of alcohol in 100 millilitres of his breath – more than three times the 22mcg limit.
Henderson admitted causing death and severe injury through dangerous driving, and attempting to pervert the course of justice, and was jailed for more than seven years in July.
At the time, Lord Mulholland said he had driven "like a maniac" and added: "You then only thought of yourself.
"Instead of helping the poor people you had harmed, you fled the scene and went to a nearby pub."
North-east MSP and Scottish Conservative justice spokesman Liam Kerr said yesterday: "This was an absolutely horrific incident that the families of Allan Forbes and Chloe Donaldson should be able to feel they have received justice for.
"Mr Henderson's' appalling actions show he is not only remorseless but callous.
"It is therefore even more important both the public is protected from him but also that justice is seen to be done.
"Taking 11 years off his driving ban completely goes against this."