 Four Aberdeen shops were raided by police yesterday in a crackdown on legal highs.
The city centre premises were targeted as part of a multi-agency operation led by Police Scotland to crack down on new psychoactive substances (NPS).
Inspector Douglas Rae said: "One warrant was executed at one of the premises involved, and a number of different substances were seized.
"We are investigating a charge of culpable and reckless conduct – which is basically a common law crime of creating risk and injury to other persons.
"The substances will now be submitted for forensic investigation to confirm if there are any controlled substances in them."
The Aberdeen properties were some of 58 premises across the country targeted in the raids. A business in Peterhead was also visited.
Insp Rae said: "Trading Standards officers accompanied staff and at each location gave out letters highlighting the responsibility of the business towards new psychoactive substances. Most of these substances contain synthetic chemicals and are potentially toxic."
Police confirmed all city four properties targeted were previously known to the police.
Councillor Ross Thomson, who publicly called for a police crackdown on legal highs in June, said: "I'm delighted it's happening because it's something people are concerned about.
"Technically they're selling something legal, but what's been found in some of these substances is not legal. For instance when MCAT hit the market it really took folk by surprised before it was banned, but you sometimes get traces of it in substances that are legal.
"You don't know what you're taking because these substances don't have an ingredients list on the back, it could be anything."
The operation was backed by a two-week nationwide marketing campaign to help raise awareness of the dangers of taking NPS.
Luan Grugeon, chief executive of Drugs Action, said: "New psychoactive substances are a growing concern, and there are an increasing number of people using these substances.
"There substances are often made abroad and don't go through testing. We don't know what the short-term or the long-term affects of these are.
"Just because something is legal, that doesn't make it safe. There are a lot of potentially dangerous substances out there."
Drugs Action offers advice and support to drug users and their families. Their helpline is open daily, and can be reached on 01224 594700.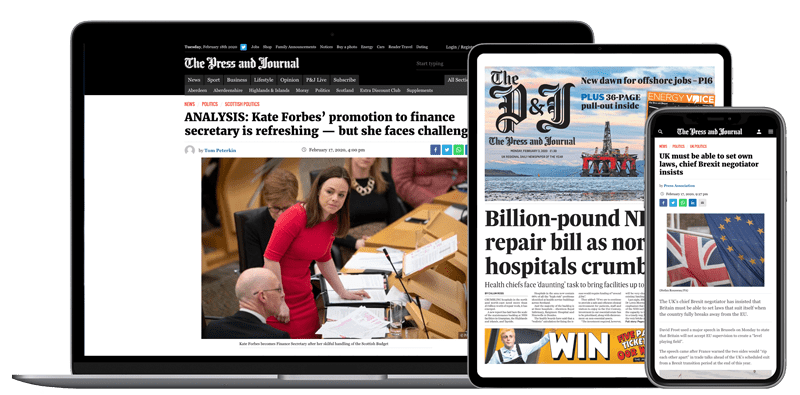 Help support quality local journalism … become a digital subscriber to The Press and Journal
For as little as £5.99 a month you can access all of our content, including Premium articles.
Subscribe