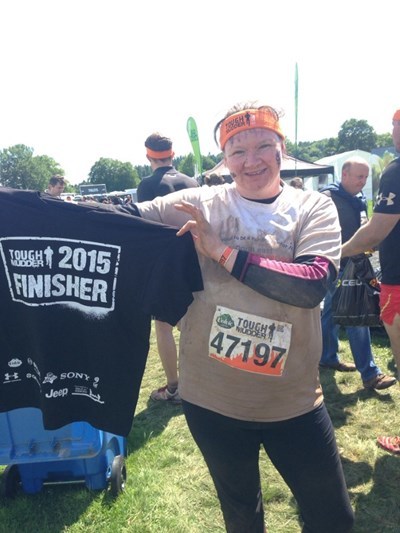 A north-east mother of three took on a 12-mile endurance course earlier this summer to raise funds for a charity whose services have helped improve the life of her son.
Kerry Mackenzie, 32, travelled to Drumlanrig Castle in Dumfries and Galloway where she completed the Tough Mudder 2015 Scotland challenge.
She faced lung-busting hills, ice-cold lakes and strength-sapping mud but managed to complete the task in just four and a half hours.
The challenge was in aid of North East Sensory Services (NESS), which has helped Mrs Mackenzie's three-year-old son Matthew who has hearing difficulties.
She said after the race: "Those who know me know about Matthew and his struggles with his hearing over the last three years.
"He is three going on four and it has been a long road, but the people at NESS have been great with support and encouragement for Matthew and others with sensory problems.
"For me, it was an easy decision to give something back to them as a thank you for everything they do for adults and children, so I have chosen to raise money for them so they can keep supporting all of us in the fantastic way they do.
"Matthew has always struggled with his confidence because of his hearing problems, but attending the children's groups at NESS has really helped, because he gets to meet and play with other children with similar issues which makes him feel like he is not alone.
"Now he has his hearing aids and has made friends at NESS he is a totally different person and has so much more confidence."
Mrs Mackenzie, from the Northfield area of Aberdeen, set out with a fundraising target of £200 but with the help of a JustGiving page was able to raise almost three times this amount.
And far from putting her feet up after her adventure, she is already on the lookout for her next fundraising endeavour.
"I had a great time doing Tough Mudder," she said.
"Even if I was exhausted by the end, and it felt great to raise so much money for NESS, so I will be doing more fundraising and I am looking for different challenges to take on next."
NESS operates in Aberdeen, Dundee and Elgin and supports 4,500 people across the north-east.
The charity's fundraising manager Neil Skene said he was hugely appreciative of Mrs McKenzie's efforts.
He said: "Although we provide help and support to people of all ages, young people in particular can benefit greatly from being made to feel part of something and that despite their impairment they can live a perfectly happy and normal life.
"For children Matthew's age, the world can seem like a big, scary place at the best of times, but if you have difficulty seeing or hearing the world around you things can be even more daunting, so our groups help them to feel at ease.
"We rely enormously on donations and fundraising and without people like Kerry taking on these challenges for us we would not be able to do the work we do."