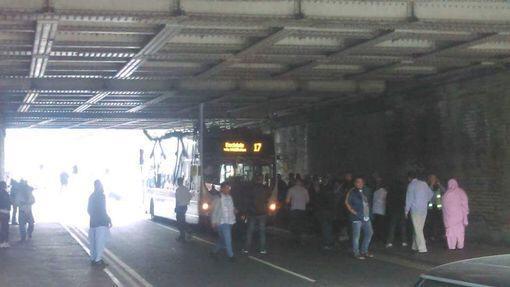 Seventeen people have been injured when a bus smashed into a bridge, ripping its roof completely off.
The double-decker carrying 25 people hit the structure near Rochdale Railway station shortly before 12.30pm, Greater Manchester Police said.
One man in his 20s suffered "more serious facial injuries" while the other 16 hurt had what police said were minor injuries. Eleven people have been taken to hospital for treatment.
GMP Inspector Stephen Clarke said: "Clearly there are lots of people in shock but luckily no one was trapped on the bus.
"Our investigation into the cause of the collision is ongoing and we would encourage anyone with any information to get in touch.
"Obviously there will be traffic congestion in the area for the next few hours, and we would encourage all traffic to avoid the area where possible."
Jackie Brennan, who was at the scene, tweeted: " #Rochdale bus crash round corner from where I work #holycrap".
Firefighters and ambulances are also at the scene in Milkstone Road, which runs under the main rail line to Manchester.
GMP Traffic tweeted that 17 people had been injured, including one with a broken jaw.
It said: "Update re Rochdale RTC. 17 injured, 1 seriously with a broken jaw. Bridge checked, Trains running normally."
A spokesman for bus operator First Manchester said that the bus was being driven by a woman and dismissed reports that it had been the driver's first day on the job.
Teresa Broxton, managing director of First Manchester, added: "At this time our primary focus is to assist customers and staff involved. Staff from First in Manchester are providing support to the emergency services at the scene. We will provide whatever additional resources we can."